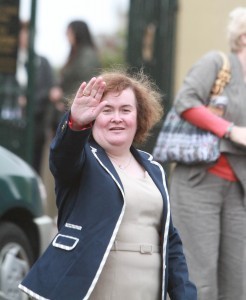 MILLIONAIRE singer Susan Boyle is considering a move to live in Co Donegal, she said today.
In an interview with a Scottish news organisation, the Britain's Got Talent singer admitted she feels at home here and has not ruled out a move.
She has a particular affection for Inishowen and Buncrana, she admitted.
Now she is in the middle of tracing her family tree.
She told Deadline News: "I love Ireland. Everyone is so welcoming – they make me feel at home every time I go back."
When asked if she would consider moving there, the 50-year-old replied: "There's a big question mark over that. Nobody knows the future."
Susan has "a lot of Celtic blood" and explained: "I know it goes back to the 1850's to Ireland, Scotland and England. I'd love to know more."
Susan's family has been linked back to Buncrana –  an area she has fond memories of visiting when she was younger.
Both her parents, Bridget McLaughlin and Patrick Boyle, were born in Motherwell, North Lanarkshire, in October 1915 and April 1916 respectively.
Her maternal grandparents, John and Mary McLaughlin, married in Derry in the 1914 marriage certificate – show that John was a tramcar driver but the records stop there, said the news site.
And her paternal grandparents, Mary and Patrick Boyle, a private in the Scottish Rifles, married in Motherwell in 1915.
The certificate records their parents as Patrick and Jane Riley and Patrick and Ann Boyle.
The Britain's Got Talent star said: "I went to Buncrana and spent some time there in my twenties. I used to go to the pictures with my uncle Michael. I love it, it hasn't changed a bit."
Martin Gallagher, 42, owner of the Halfway House said: "It would be great. I met her last time she was here and she's a lovely woman. It would be brilliant for Buncrana if she lived here. She has relations here and visits quite a lot so people are well used to her here. She'd be welcomed with open arms that's for sure."
Tags: