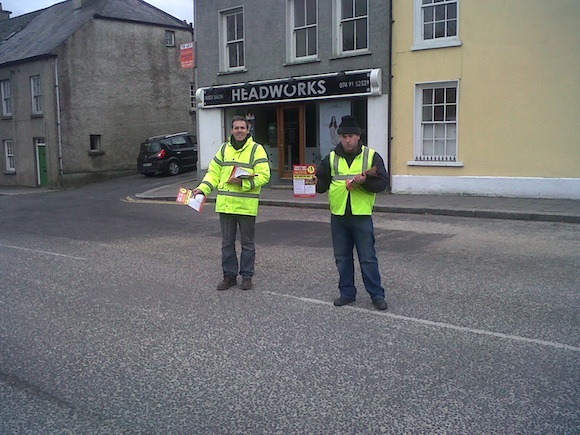 UPDATED: CAMPAIGNERS IN Co Donegal are stepping up their campaign against the household charge – with posters in English and Irish throughout the county – as environment minister Phil Hogan insisted everyone would have to pay eventually.
Mr Hogan issued his warning as RTE reported the Government as saying  that just 15% of households have registered and paid the €100 tax.
The latest Donegal poster from the 'Can't Pay, Won't Pay' campaign is pictured below in Gaoth Dobhair.
It might be a Bank Holiday but today protesters were handing out leaflets to motorists in Ramelton (above).
It comes amid reports that the household tax will rise substantially next year, possibly as high as €700 for some people.
Mr Hogan insisted: "I have the full support of the Government to enact further legislation if necessary to ensure that this charge is implemented.
"We are looking at the fines acts, the data protection acts and the Department of Justice, the Department of Finance and the Department of the Environment are working together to ensure that this charge is collected in full.
"If we have difficulties with ensuring we have information across the departments, then we'll have to look at legislation, but maybe we won't come to that."
Around 1.6m households are liable to pay the charge, but so far less than 15% have paid, said RTE.
Mr Hogan said that he is confident that the majority of households will have paid by the 31 March deadline.
However, he warned that those failing to do so would find themselves liable to pay fines or going to court.
PUBLICITY
Mr Hogan defended the campaign publicising the Household Charge.
"I'm getting some anecdotal evidence that not every house has got leaflets but a lot of houses have got leaflets," he said.
"The Minister certainly can't go to every door and tell them [household owners] what their legal obligations are. They are required to pay the charge, I think everybody knows that."
© 2012 donegaldaily.com, all Rights Reserved
The copying, republication or redistribution of donegaldaily.com Content, including by framing or similar means, is expressly prohibited by law.
LEAVE YOUR COMMENT BELOW. PLEASE TRY TO AVOID USING FOUL, DEFAMATORY OR INSULTING LANGUAGE.
Follow us on www.twitter.com/donegaldaily
Follow us on www.facebook.com/donegaldaily
Tags: