Donegal resident and Birmingham Six member Johnny Walker has spoken of his friendship with tragic Jim Stynes.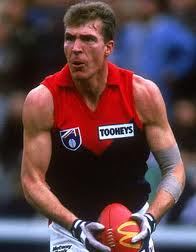 Walker, who lives in Carrickfin, first met the Irish/Australian football star when he was released from prison in 1991.
Walker, 76, travelled to Melbourne where he met Stynes and the pair instantly hit it off.
The unlikely pair remained close friends and would often visit eachother's houses.
Walker told Doneagldaily.com that he was heartbroken to hear of Stynes' death.
"He had a heart that was only matched by the size of the man himself. I can't remember how tall he stood – it seemed like 6'6" but he was a gentle giant.
"I am honoured to have known big Jim and I am very saddened by his passing. He was just such a down-to-earth fella and we just hit it off.
"I remember him landing in my sister's house in Derry with some friends one time and they just all slept on the floor in her front room. She still talks about that night," said Johnny.
Walker, who spent sixteen years in prison after wrongly being accused of carrying out the Birmingham bombings, was jailed in 1975.
He says Jim used to often call to Donegal for a few days when he was in Ireland just to walk on the beach or go down to the local pub for a couple of pints.
He said he was particularly impressed by Stynes' sportscar in Australia which had the registration plate 'Eire 32'.
Walker said he often got and sent Christmas and St.Patrick's Day cards to Stynes.
"I remember visiting him with his family in Dublin and they were just lovely people. My thoughts are with them at this time," he said.
Tags: