A Donegal man who lost more than half his body weight has sent out a heartfelt appeal to help him get surgery to get rid of unsightly folds of loose skin covering his body.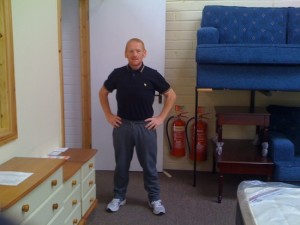 Determined Damien McLaughlin stunned family and friends by going on a life saving diet and exercise course.
The 41 year old from Burnfoot, who weighed in at 24 stone, shed a massive 13.5 stone to save his own life after advice from doctors.
He dumped junk-food, replaced it with fruit and vegetables and went to the gym EVERY single day for 13 months.
But despite winning the battle of the bulge, married father-of-two Damien has been left heartbroken because of his new-found appearance.
Damien, who suffered from Asthma and a fluid retention, was told by doctors he would die from heart failure unless he undertook a strict diet and fitness regime.
And when his family bought him a gym membership for Father's Day in 2010, he put it to good use.
Damien lost an incredible 13.5 stone and shrunk by two inches as he fought to save his own life.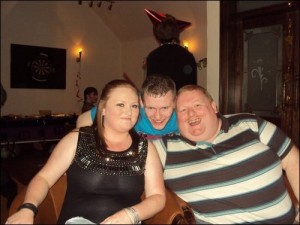 He says he is delighted that his health has improved and his life has changed for the better.
But he says that it is still not complete because he cannot get rid of the unsightly fat folds left by the weight loss.
He has tried everything but can't shake off the excess skin.
"I simply can't lose any more weight. I am down to ten and a half stone and my Body Mass Index (BMI) can't get any lower.
"I have tried everything but I am now certain that the only thing that will work is to have surgery.
"It will have to be a lot of surgery but that does not body me. I have come too far to be worried about that now," he said.
Damien, who runs his own furniture store, says he feels much better about himself but wants to change what he looks like.
He loves swimming but admits he gets plenty of strange looks from people when he takes his shirt off.
"It doesn't really bother me now because I have got used to it. I can see people looking at me and wondering 'what happened to him?'. If people ask me then I tell them exactly what happened and they are very understanding.
"But yes, I do feel it. I have come so far and yet I am not there yet. I can't go on looking like this and I will do whatever it takes to get rid of this skin," he said.
Damien says he rarely looks at takeaways now and only occasionally takes a drink.
He still trains and is the picture of health – apart from the excess skin.
"I am like a reformed smoker. I hate the sight of fish and chips. Before I might have fish and chips twice a day as well as bacon sandwiches and cakes all washed down by lemonade.
"Now I eat twice as much but it's all good stuff including fish, vegetables, yogurts and cereal.
"It's all about choice. I read books before I decided to lose the weight. I made a choice that I wanted to be here for my two children, who were then aged 20 and 19. I didn't want to die a young man," he said.
Damien has went for consultations to have surgery and he has been quoted more than €20,000 for the surgery which he says he simply cannot afford.
"I am going to have surgery eventually. It is just so expensive and I am trying to see if I am entitled to any help.
"The country is crying out for people to lose weight and become healthy. I have done that and I feel like I have now hit a brick wall. I need help now.
"I am prepared to do whatever it takes. I have shown that I am prepared to do anything and stick at it," he said.
Tags: