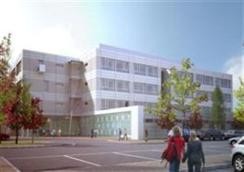 A STORM last December has caused a delay in the completion of the new Medical Block at Letterkenny General Hospital but the cost of the damage is being picked up by an insurance company, it is reported today.
John Hayes, HSE Area Manager, Donegal, told the Irish Medical Times aht extreme adverse weather conditions on the night of December 13 caused an open culvert, which ran through the hospital campus, to overflow, causing some damage to the ground floor of the new medical block.
"The result of this damage and remedial work required will cause the completion of the construction works to be delayed by approximately six weeks," he said.
The IMT said that fortunately for Letterkenny General, the contractor acted immediately to minimise the damage and had begun to make repairs and replace finishes when required.
These additional works were being carried out in agreement with the contractor's insurance company and no additional construction costs would be incurred by the project as a result of the flooding.
Tags: