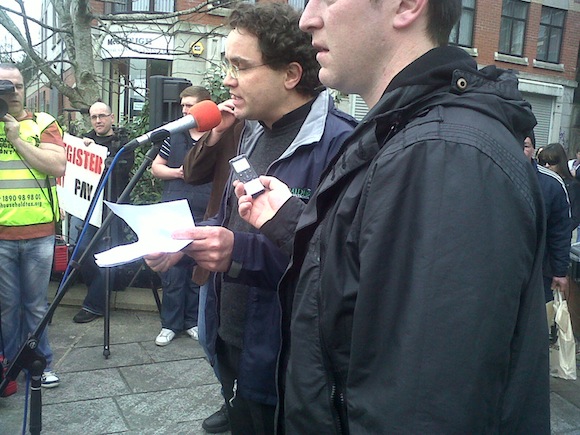 TWO thousand people took to the streets of Letterkenny today to voice their protest at the €100 household charge and heard a Catholic priest tell them to stand up to the Government.

With just a few days left before the March 31st deadline, a large demonstration was organised by anti-austerity protesters with people travelling from all over the county, and a small group from north Leitrim.
Gaoth Dobhair priest Father Brian O'Fearraigh told the crowd that the charges were "unfair and unjust" and urged people not to pay the household charge, septic tank charges or water taxes.
Father O'Fearraigh was among a number of people who symbolically tore up household charge registration forms.
The popular priest told the crowd: "It was once said that 'there is only one way to succeed in anything and that is to give it everything.'
"Standing here today, we give it our all, in order to ensure that these regressive and unjust charges are defeated and in the words of a fellow campaigner in Falcarragh recently, To ensure these charges are relegated to the septic tank of history. Why? Because they bring nothing but, hardship and difficulty, stress and poverty go leor.
"We, the people say: No to household charges. We the people say: No to water charges, We the people say no to septic tank registration fees. We the people say: We Can't Pay won't Pay."
TD Thomas Pringle got the biggest cheer when he told people to tell local Oireachtas members Joe McHugh, Dinny McGinley and Jimmy Harte that the 'won't pay' message was clear.
And he responded to reports that the Government had told councils to start knocking doors to collect the charge by saying: "The message will be the same, we can't pay, we won't pay, now go away."
Other speakers said they believed the people should stick together.
"The sense of anger out there is palpable. People are simply not going to pay this charge. It's the last straw," said Micheal Mac Giolla Easbuig , one of the organisers.
"This protest is about sending a message to Government that people simply cannot afford any more charges
"With just days to the deadline we want to let them know that we are not for turning," he said.
A separate protest over cuts to school transport took place in the Twin Towns. Free transport will only be provided in future if pupils attend their nearest post-primary school.
Parents and teachers in the Finn Valley area walked from Navenney Car Park in Ballybofey to Stranorlar.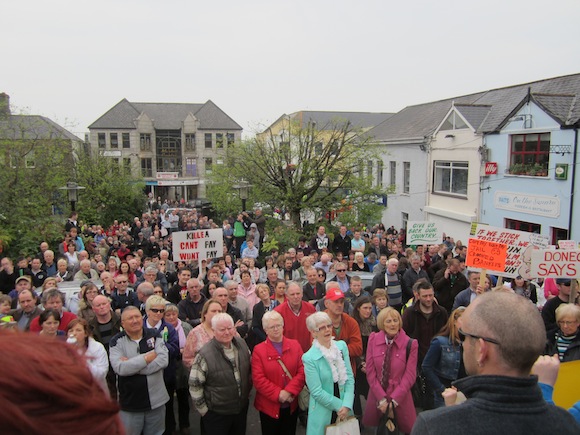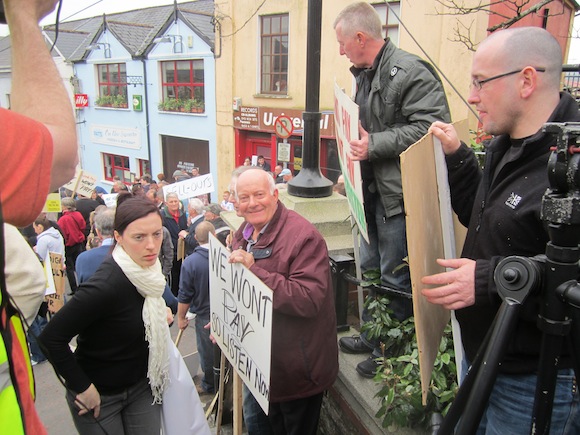 Tags: