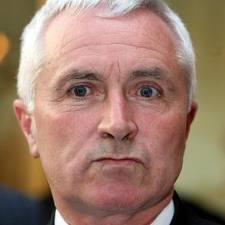 FORMER Donegal North East TD and Government minister Jim McDaid today questioned the conclusions of the Mahon Tribunal.
Mr McDaid asked why no one is questioning the contents of the Mahon Tribunal report during an interview with Newstalk radio today.
Jim McDaid says that he agrees with the pension entitlements being stripped from politicians found to have acted corruptly, but he questioned the "infallibility" of the inquiry.
He told the national station that the judiciary "does not always get everything right".
"How many times every year do cases in our Supreme Court actually overturn decisions that are made by our High Court judges?" he asked.
"I have the utmost respect for the judiciary, but I'm just saying they are not infallible. We seem to have come to accept that everything said by the Tribunal chairman – all 3,200 pages plus – is infallible."
He said he believed monies received by ex-Taoiseach Bertie Ahern were as part of a dig-out. Mahon dismissed that.
"I knew all of those people and I believe it was a dig-out," he told Newstalk.
Tags: