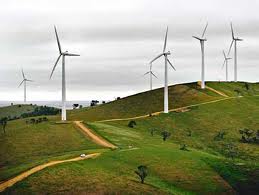 A COUNTY Councillor has called for a "proper" impact assessment of wind farms on tourists, saying plans in several areas of Donegal have the potential to hit the tourism industry.
Cllr Bernard McGuinness is angry about plans for another windfarm in Inishowen, with the planning notice published in the Irish Times.
"I have a newsagents and I didn't see that notice," he said.
Cllr McGuinness wants the impact on the Donegal landscape to be taken into account when applications are assessed.
He put forward a motion a this week's council meeting calling on the council to carry out a Landscape Character Assessment to enable the council to form a renewable energy strategy.
He also wants the results of the assessment to be included in the county development plan.
There is huge controversy over the latest Inishowen application; and a massive campaign against a similar scheme being planned in Glenties.
The council has promised Cllr Jack Murray that it will review the list of approved newspapers, but believe the windfarm proposals should have been advertised locally.
Cllr McGuinness said he feared wind farms "have the potential to blight the landscape and turn off tourists."
"Our scenery is our greatest asset and if people don't want to see windfarms they won't want to come here," he added.
His motion will be discussed in full when the March county council meeting resumes on April 16.
TODAY'S DEBATE:
WHAT DO YOU THINK?
LEAVE YOUR COMMENT BELOW:
Tags: