Donegal soccer star Seamus Coleman has become a huge favourite at Everton.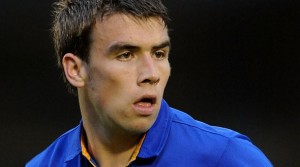 And he is now officially a firm favorite with one particular fan – Dean Steflox.
The Killybegs man was the latest Everton player to emerge Out of the Blue on Thursday – a campaign to surprise ordinary fans of the Merseyside club.
Seamus headed to the Everton Two store in Liverpool city centre where he surprised Blues fan Dean with a free 2012/13 Season Ticket as part of the Club's Stand Together campaign.
Seamus was the second in a sequence of six appearances from Everton players which will occur Out of the Blue!
Modest and down-to-earth Coleman said: "That was really good! It's made my day seeing them so happy. What a great idea!"
And Dean added: "Seamus is one of my favourite players and to get a Season Ticket for next season is a massive bonus. This is why Everton are the people's club.
Seamus has cemented his place back in the Everton squad and is a favourite to land a place in the Irish squad for this summer's European Championships.
Tags: