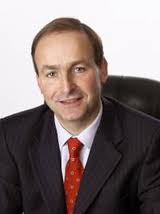 ALLEGED planning irregularities in Co Donegal will be reviewed in the wake of the Mahon Tribunal report, Tánaiste Eamon Gilmore has told Micheal Martin.
The Labour Party leader said a public statement would be made later this year following a review of alleged planning irregularities in Donegal and six other local authority areas.
Mr Gimore said the review related to "complaints and dissatisfaction" regarding planning decisions or policies undertaken.
"The review will be completed following the publication of the retail planning guidelines due before the end of April," he added.
Mr Gilmore said the local authorities were Dublin and Cork city councils and county councils in Carlow, Galway, Cork, Meath and here in Co Donegal.
He was pressed on the issue by Fianna Fáil leader Micheál Martin who noted that ex-minister for the environment John Gormley had established an independent review into the planning practices in those local authorities and a year since taking the position, Phil Hogan had not taken the probe further.
"Why is there still no outcome to his internal reviews nine months after he suppressed the independent reviews the former minister, Mr Gormley, established?" Mr Martin asked.
Mr Martin said that Mr Hogan had been given "an extensive dossier" prepared by planning officials in the department following an internal review of complaints made from 2007 to 2009.
He added that the Minister also had a series of reports from the managers in each of the local authorities. The terms of reference for a panel of planning consultants were also available, said Mr Martin.
However Mr Gilmore said that seven months after Mr Gormley ordered the investigation, nothing had happened.
Mr Hogan had asked for an internal review to take place.
He had instructed officials to conduct an internal review and to report to him on what further actions might be warranted.
Mr Martin said he had spoken to Mr Gormley.
"The bottom line is there was resistance to these inquiries within the system," he claimed.
He said Mr Gilmore should meet Mr Gormley and look at the dossier on the issue.
Follow us on www.twitter.com/donegaldaily
Follow us on www.facebook.com/donegaldaily
Tags: