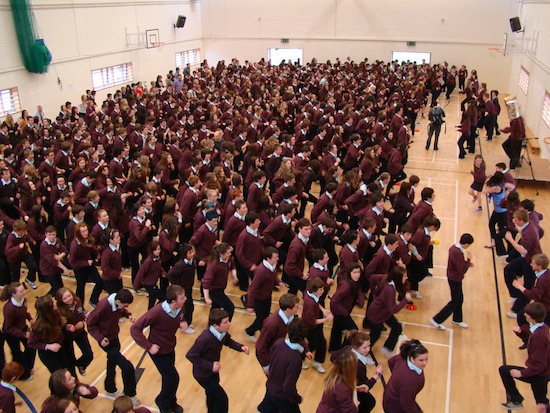 More than 700 students 'shuffled' their way into the Guinness Book of World Records today.
The pupils, teachers and canteen staff of Loreto Community School, in Milford set the record on the fifth attempt.
The massive record was set in the gymnasium of the school to the sounds of pop stars LMFAO and was overseen by local Gardai.
The group had to shuffle for more than five minutes and, after a number of attempts, managed to set the record.
Teacher and organiser Nathania McDonnell said the pupils had a brilliant time setting the record and hope to know in a couple of weeks if they are world record breakers.
"We had to take pictures and also get everyone to sign in so everything was above board.
"The Gardai also verified the numbers so there was no cheating.
"We needed to have at least 250 people shuffling but we smashed that and we had a great time doing it," she said.
The group also raised vital funding for the Letterkenny General Hospital Cancer Care Fund during the record attempt.
Tags: