Hello and welcome back to the Country Corner hope you all enjoyed last week's article.
Country Music News
• Lisa Mc Hugh – The talented newcomer was born in Scotland and has now moved to Donegal. Lisa has strong Irish connections as her mother is from Falcarragh, Co Donegal, and her father a native of Castlederg, Co Tyrone.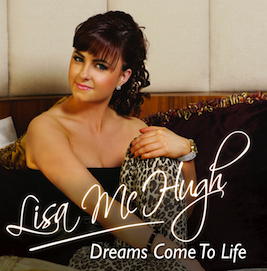 She first made her mark on the national scene in December 2009 as a finalist on TG4's Glor Tire where her mentor was the ever-popular Robert Mizzell. Within a comparatively short period of time she has established herself as one of the top drawing country acts in Ireland. Lisa's new CD entitled Dreams Come To Life is out Fri 13th April – Tracks featured on the new album include: In The Glow Of The Light, ,To Daddy; This I Promise You; False Eyelashes; Help Me Make It Through The Night; Why'd Ya Come In Here?, Some Days You Gotta Dance, Out There Somewhere; I Can't Be Bothered; The Court Of Love The Lightning Express; You're The First Think of; Words Don't Reach My Heart, Time Has Come – don't forget to check out Lisa's website http://lisa-mchugh.com/
Mary B & Paul Gallagher – from Ardara in Co.Donegal have released there brand new Cd entitled – The One and Only – Mary B and Paul are working extensively all over England, Scotland and Ireland.
"We have the versatility to play both 'Country &Western' clubs as well as the 'Irish Clubs.We are also a popular choice for weddings, as our show is adaptable to suit. In fact we were chosen by Daniel O' Donnell and Majella to play their wedding in 2004."
12 Great Songs on this CD – from your country classics to Irish Country makes this a great CD to get – also don't forget Paul played all the instruments himself, check out their brand new website http://marybandpaulgallagher.com/
Jason Mc Gilligan – Jason's brand new single 'Back to Yesterday' is set for release in early April and will undoubtedly be a hit with listeners and dancers across the board. The song was penned with Jason in mind by local singer / songwriter Liam McLaughlin and will be available for request on all local radio stations. To accompany the release of the single, will be a brand new music video which will feature on the very popular SKY TV showcase Hot Country, check out Jason's website http://www.jasonmcgilligan.com/
Patrick Feeney is one of Ireland's great entertainers, and this week he releases his brand new single I Loved Her First, the song is about a father talking to the man who is about to marry his daughter, telling him that he is having difficulty giving her away because he loved her first. Check out patricks website – www.patrickfeeney.ie
Quick Snipets
Gerry Guthrie from Co.Mayo has a new single out in the next few weeks – keep tuned next week for more details – in the mean time check out www.gerryguthrie.ie
Leona Hoey from Cullyhanna, in Co.Armagh has just released her new single entitled – They Don't Make Em Like My Daddy Anymore.
Dave Sheriff from the United Kingdom, has just released his brand new single entitled – End in Tears a lovely duet with Lisa Stanley. Don't forget its available to download at www.davesheriff.com and iTunes, etc.
New singles very soon from Nathan Carter, Derek Ryan
Check out his brand new Video – Johnny Brady – My Mother, My Teacher, My friend – http://www.youtube.com/watch?v=Jx8cNIkgq5o&context=C4963000ADvjVQa1PpcFNfE19yXytHnr8ti1e6SobyrPgfaujxu_s=
Dancing Dates
Fri 30th March
The Melon Country Hotel – Omagh
Jimmy Buckley & Band
Sat 31st March
The Riverclub – Castlefin
Patrick Feeney & Band
Sat 31st March
Allingham Arms Hotel – Bundoran
Lisa Mc Hugh & Band
You can also check out my website which is www.keepitcountryradioshow.co.uk for all the latest in Irish Country Music
Tags: