With just one day left before the deadline for payment of the €100 household charge, it has been estimated that just 25% of Donegal people eligible to pay have done so.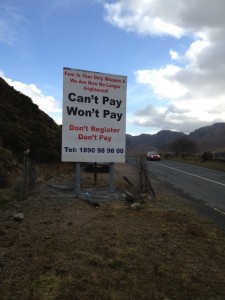 The level of payment is considerably lower than the national average which is estimated to be 37%.
The low level of payment, understood to be one of the lowest nationwide, is being directly linked to protests across the county in recent weeks.
None of the council offices accepting payments yesterday were overly busy but a last minute rush is expected.
Those protests will continue today when members of the Can't Pay Won't Pay group will picket council offices around the county.
The offices in Lifford ( Motor Tax office at the Three Rivers centre) and the public services centres at Letterkenny, Milford, Donegal Town, Dungloe and Carndonagh will all be open.
The town council offices in Buncrana and Bundoran will also be open. All offices will be open from 9.00 o'clock on Saturday morning until 4.30pm today.
The council website also stresses that today will be the last day that payments will be accepted without financial penalties.
From tomorrow, people face initial fines of €10.
Meanwhile the Donegal walkers complete their journey to the Fine Gael Ard Fheis in Dublin today.
"We are hoping thousands of people will join us," said Joe Murphy, organiser of the anti-austerity campaign.
Tags: