THIS is the scene today as thousands and thousands of anti-household tax protestors marched on the Fine Gael Ard Fheis at the national convention centre in Dublin.
RTE and Gardai put the numbers at around 5,000, with organisers estimating up to 10,000.
The protestors had joined a group of Donegal protestors who were completing the final leg of a three-week 280-mile walk from Malin Head to the capital.
Two protesters attempted to push their way through a massive Garda security cordon but were pushed back by gardaí.
A near riot broke out during the protests when a Fine Gael delegate who resembled Phil Hogan tried to pass through the crowd.
The man was engulfed by angry protesters and jostled before gardai came to his rescue.
As they attempted to escort him from the area they were surrounded by screaming protesters, some of whom shouted "shame on you Hogan."
The man was visibly shaken as he was put into a Garda squad car and driven away at speed.
Earlier a number of Fine Gael delegates who ventured through the crowd were also subject to verbal abuse.
Leaders of the opposition campaign, including a number of TDs, will address the rally.
People inside the Convention Centre have been told to move away from windows to avoid "antagonising the crowds".
Joe Murphy, from Inishowen, said he was "astonished by the massive show of support for the walkers here today."
He had appeared last night on the Late Late Show ahead of today's march from Pheonix Park via O'Connell Street.
He said the protest would be peaceful and "demonstrate to this Government the real anger of the people."
Earlier Alan Shatter was criticised after he had told the marchers to "get a life."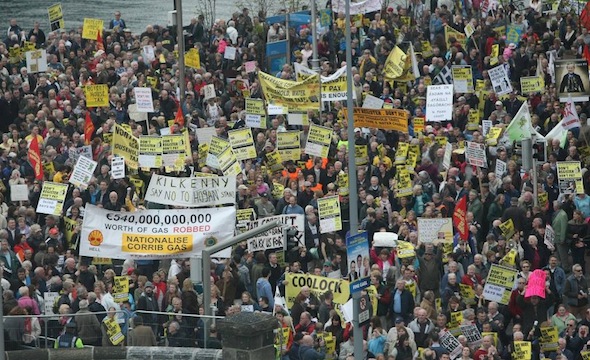 Tags: