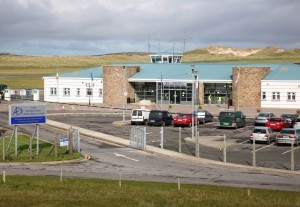 PASSENGERS using the Donegal to Glasgow route are in for a double boost – Flybe and franchise partner Loganair are doubling the number of flights on the service and waiving baggage charges until the end of April.
Scotland's Airline Loganair, which celebrates its 50th anniversary this year, is increasing the number of weekly flights between Donegal and Glasgow from three to six over the course of the summer.
The route was launched last November with flights on Wednesdays, Fridays and Sundays. Loganair has now added a Monday flight to the busy route schedule and from next week a Thursday flight will operate in both directions.
A Saturday flight will also operate from May until September between Donegal and Glasgow, doubling the number of seats available and boosting the level of flexibility on offer to customers. Fares for the route will start from €48.99 one-way including all taxes.
As an added bonus for passengers, the airline will include a free checked-in bag up to 20kgs on all bookings made between now and April 30, saving €34 from the normal cost of booking.
Flights are bookable now until February 15 next year, and both Loganair and partner Flybe anticipate a large volume of both tourism and business passengers visiting friends, relatives and associates.
Commenting on the expanded schedule and special offer, Loganair's Chief Operating Officer Jonathan Hinkles said: "We're delighted with the progress of the Donegal and Glasgow services which we launched late last year, and especially pleased that more people than ever before will be able to travel this summer using our enhanced schedule.
"Our new early-booking offer will help passengers making their reservations before 30 April to save money by including a 20kg bag in the fare, which we're sure will prove popular as the peak summer season approaches."
Anne Bonner, Managing Director at Donegal Airport, said: "We are delighted that Loganair has increased the Glasgow service. There is a long history of demand on the Donegal to Glasgow route and the additional capacity will now enable further growth over the peak summer period.
"The baggage promotion to the end of April is also a welcome development and we expect many passengers to avail of it."
Loganair is also quickly building on its already strong reputation for reliability on its Donegal service going out to Dublin.
February and March this year only two of 224 planned flights were cancelled – both due to adverse weather conditions, while an impressive 93% of flights took place within three minutes of their advertised departure time.
The airline industry classes an "on time" flight as one which leaves within 15 minutes of its scheduled time, however, Loganair's very own performance monitoring standards are even more rigorous.
"It's vital that passengers have confidence in the reliability of their essential air service to Dublin," adds Jonathan Hinkles.
"The efforts made by Loganair to achieve exemplary levels of punctuality – both by our own aircrews and by the excellent teams on the ground at both Donegal and Dublin airports – are clearly paying dividends for users of the service and we will strive to ensure this continues."
BOOK your flight by clicking on the Donegal Airport advertisement on the donegaldaily.com homepage.
Tags: