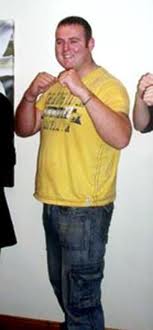 A NEWSPAPAER editor whose nephew was murdered by terrorists in Buncrana in February has today written an emotional article about the killing, hitting out at the "lies" that were spread about him.
William Allen, editor of The Sentinel newspaper in Derry, is the uncle of Andrew Allen.
He was shot dead in Buncrana by Republican Action Against Drugs on February 9.
Mr Allen's article is below:
ANDREW Allen has been described as a loving father, partner, son, brother, uncle, nephew and loyal friend.
My nephew has been labelled a 'gentle giant', a 'lovable rogue' and a shy man despite having the height and build of a heavyweight boxer.
He was all of these things and more. He was a fairly typical young man trying to make his way in the world, relying on the Bank of Mum and Dad, and in his case, brothers and sisters as well.
Just a few hours before he was mercilessly gunned down in front of a terrified partner, who watched him bleed to death, he had asked one of his brothers for a loan of £20.
As his sister says, "He was always skint".
What he was not then, was the man described in the scurrilous claims of the self-styled Republican Action Against Drugs, who so brutally robbed a young man of his life and cast a partner and family into a nightmare from which they will never fully recover.
I have never given any credence to the allegations made by such people, because I believe they are beneath contempt, but these claims were so widely repeated in the media that the fact is the family had to make a response. They did so because once allegations were made, staying silent may have suggested there was some truth in the claims. In other words, they were left with no choice. But the strength of their anger, and the revulsion of the wider community, should be evidence enough of what ordinary decent people think of RAAD and their false allegations.
However from my point of view, as a journalist myself as well as Andy's uncle, I find myself questioning whether mourning familes, or anyone affected by RAAD's attacks, should ever be put in that position. Does simply repeating RAAD's unsubstantiated claims lend some sense of legitimacy to these thugs? Could coverage 'with a straight bat' be seen in any way as implying that perhaps their victims are in some way responsible for being shot or bombed? Are we failing to make clear that we do not endorse, but actively oppose, such actions? Even worse, by failing to properly question and investigate, are we allowing the terror group to put a smokescreen over their true activities?
Trust me, the RAAD claims in Andy's case would not have been repeated if he had been left fighting for his life rather than dead.
Let's look at what RAAD actually did, as a test of their 'character'. On the night he was killed, Andy was in his bedroom. The blinds were drawn and he was playing the X Box III and chatting online to one of his nephews, who was looking forward to staying with Andy and partner Arlene, as well as Andy's son, on the following night.
Two nights earlier they had stayed there.
Luckily for them, the gunmen chose a night when they were not in the room with Arlene and Andy, or we could be dealing with the massacre of children too. RAAD simply didn't care who got in their way.
For me, the issue that should be dealt with was the murder itself, and the spotlight should have been firmly and relentlessly on the killer gang and the damage they did, to victims, families and wider communities, challenging RAAD's right to exist, investigating its methods of 'gathering intelligence' – people will say anything to save themselves when they are tortured and guns are aimed at their head – probing RAAD's real motives and activities, vigorously questioning their stunts and statements.
By all means, at a later point, examine what is wrong when such people can exist and find any level of support.
But the immediate debate following attacks tends to quickly become about whether police are doing enough to tackle drugs, when there is often no evidence other than the claims of those who are guilty of murdering and maiming people that drugs was an issue in their brutal crimes.
Following Andy's murder, parents, partner and immediate family, having endured a torrid time since the attack, were only beginning to start the grieving process when they had to deal with the fact that, not content with taking Andy's life, the terrorists were now assassinating his character and his memory because their claims were repeated.
The anger that this led to meant the grieving process was suspended again, while Andy's family were forced to defend their loved one.
He leaves behind two young children aged four and six by the way. What effect will all this have on them when they are old enough to understand it all?
Whether or not he was killed by RAAD, the family have repeated ad nauseum that Andy never knew he was under threat from them. They still want to know why.
The original threat to six men in the Top of the Hill area came in the form of a list accompanied by bullets, posted to a community group. Andy was given a copy of the 'threat message' that came from "dissident republicans" and never mentioned any motive. Five others received a similar warning. Again no motive was given.
Some parents contacted various groups and all denied issuing any threat, including RAAD. Later Andy was told the threat was lifted.
One of the other threatened men's parents contacted the Derry Journal after RAAD's statement to say that RAAD had denied making these threats at the time, asking how could it deny it then and claim it now. It's a very good question.
Copies of the original threat message were shown to journalists.
A few weeks later, RAAD issued threats to other young people in the Top of the Hill area, accusing them of "anti social behaviour". A copy of one of these was also shown to journalists. Andy was not on that list. So, future RAAD victims now know what their word is worth.
It sometimes amazes me at how little of a spotlight groups like RAAD and their tiny band of supporters are put under.
Let's turn the scenario around. Say, for example, the PSNI put guns to a few people's heads, used information to torture and threaten others, and then decided that they didn't have any evidence to take a RAAD member to court, so instead they would adopt a 'shoot to kill' policy and then issue statements afterwards to 'explain' why they did it.
There would rightly be an almighty uproar.
So why do we subject terror groups and their allegations to less scrutiny than we rightly afford lawful forces of law and order?
People in this city should understand the difference between unsubstantiated, false allegations and facts. As a recent Derry Journal editorial pointed out, it is the city where for 38 years, the Bloody Sunday families fought to clear their loved ones' names. In the legal system, there are also avenues to prove miscarriages of justice, or unsafe convictions. In RAAD's illegal system, there is no such recourse. Their judgement is final.
In light of the serious escalation in their activities, is it time for a more robust debate on how this group, their action and their words, are dealt with by the media in general, given the potential harm to already suffering families by reporting of false allegations? Should it be the media's responsibility to test these claims, because they are the ones repeating them, not the grieving families? After all, if any legal organisation made shocking and controversial allegations we would ask hard questions of them. So why treat the illegal ones in a different fashion?
This is not to say that information should not be reported, it's simply a question of how this is done. Because such statements are delivered in short phone calls or in written statements, and these people do not put themselves forward for public cross-examination, are there other ways in which we can shine the spotlight on them, and analyse more deeply their words, or lack of them, as well as their actions?
I also think self-examination is needed by more than the media.
In terms of the social conditions afflicting working class estates in particular, I look at things in a simplistic way. If a child grows up in a home where violence is a regular occurrence then there is a chance of the young person going astray in some way, or failing to fully develop to their potential. Extending this, if young people grow up in communities where violence is a regular occurrence, and 'justice' is administered by kangaroo courts at the point of a gun barrel or the sharp end of a nail-studded bat, then it seems to me to stand to reason that this society will become dysfunctional.
And that some social problems will develop as a result of fractured communities.
When the young people grow older, and the masks of the oppressors come off and the guns are decommissioned, some of the kangaroo court workers may go on to become community activists, while others will refuse to change their ways.
What happens when disaffected young people then stand up to others and say, 'You don't scare us any more'?
What happens is that the need to impose a forceful form of control on rebellious youngsters again comes to the fore.
These people know no other way. Hence we have over 80 'expulsions' in just one year, culminating in a murder.
Any claim that they are not politically motivated but acting on behalf of communities is wiped away in RAAD's statement of responsibility for Andy's death.
By describing the police as 'RUC' they showed they are contemptuous of the will of the vast majority of us who have expressed our democratic right to be rid of the likes of them. It was also interesting to note that they called off an operation because of the presence of police in the area. Wouldn't all journalists love to question them publicly on why they don't like having to deal with people who might fight back?
Media coverage of RAAD attacks aside, are there other areas in which the media might ask more serious questions? I think so. There is no doubt that there are issues affecting many local communities, drugs being one of them.
The cemeteries are full of people who died because of alcohol abuse, because of smoking toxic cigarettes – many smuggled in by paramilitaries.
They would be even fuller were the major drug barons to arm themselves – and we found ourselves facing Dublin-style gang shootouts. That's the inevitable consequence of RAAD's tactics.
What really is the level of the city's drugs problem, what are the real issues, who needs to be consulted etc etc – there are endless questions but they are not being asked.
Instead we hold the same tired debate over and over, rather than instigate serious and thoughtful discussion on the subject. Surely that's what we need to do – identify the issues, research and investigate and work out a solution in a mature and civilised manner?
Many of us have to take a long, hard look at our own role in creating a better future for our young people.
As a journalist I am doing that and asking myself some searching questions, including whether I am identifying the real issues, or helping making a bad situation worse.
But what about politicians in the areas affected by the upsurge in republican violence against members of local communities – members of Sinn Fein, or the SDLP for that matter.
Can republican politicians really say they have done enough to even try to begin the process of undoing the damage done to communities suffering great levels of deprivation, by the barbaric justice meted out by masked gangs to their young people and others for decades?
Do republicans acknowledge the part they played in helping create dysfunction within communities?
Do they accept their responsibility for helping bring us to the point where a young man lies dead and a grieving family is left bewildered and looking for answers?
And has the SDLP put them under enough pressure to make sure they do so, or done enough themselves to help communities recover from the effects of the past?
Obviously, given recent events in Belfast, problems are not confined to Derry, and not only to nationalist/ republican communities.
I believe the Northern Ireland Executive needs to launch a transparent, comprehensive audit of where the 'peace' money and other funding has gone, and an assessment made of the outcomes of that substantial investment, for the sake of the younger generation.
Many millions of pounds have been spent across Northern Ireland, but are we getting the money to the right people, and are the right people, especially the disaffected youth, getting the benefits?
Are communities being helped through this substantial investment to achieve self-empowerment?
Given what happened in Buncrana on February 9, I think not.
Tags: