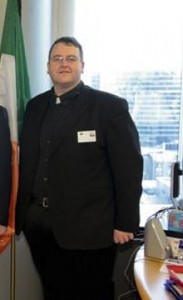 A LEADING Catholic priest in the county has warned that Government education policies have amounted to an attack on Protestant schools – and he vowed to oppose them.
Father Joe Joe Duffy, PP on Arranmore Island, has launched a scathing attack on current policies which he said was contrary to a 'parity of esteem for all."
Father Duffy said: "The Government's decision to pursue an educational policy that adversely affects the Protestant faith ethos in particular is ill-conceived and poorly thought out.
"This is particularly pertinent at this time when confidence- building measures for faith communities and different traditions are required in the North.
"When we consider it in the context of North/South relations the onus is on the Irish Government to pursue confidence-building measures and parity of esteem for minority faiths."
He said that equality for all is what was demanded in the North, but "unfortunately we are pursuing a different policy in the South."
He went on: "This is a retrograde step by the Irish Government as the consequences will severely negatively impact on the Republic's minority faiths.
"The Protestant bishops have every right to be concerned, as 130 out of 178 of their schools have 86 pupils or fewer. Under the disproportionate increase in the pupil/teacher ratio for schools with 86 pupils or fewer, there is the real prospect of 38 of the Protestant schools becoming one-teacher schools.
"This is nothing more than a stealth closure and amalgamation measure by the Government. Protestant schools will find it difficult to amalgamate with other Protestant schools due to the nature of their communities which are dispersed and are far away from another school of their own ethos.
"In Co Donegal, two of the Protestant schools near where I am based are 87km away from each other, on very bad and dangerous roads. We as a country should be fully supportive of minority faith schools. They play an important role in the formation of values that serve our country well and our communities in particular. The ethos of minority faith schools has to be protected in our pluralistic society, where pluralism ought to protect faith-based and non-faith based schools of all ethos alike."
Father Duffy added in his letter to the Irish Times: "It is the duty of the majority to protect the rights of the minorities. If we fail to do that we have failed to be a pluralistic society and we have failed as a democracy that should cherish the rights of all its children irrespective of class, creed or colour.
"In 2009, in Opposition, Enda Kenny responded to educational policy stating that "Protestant schools are being 'got at' . . ." In 2012, it is important that we recognise the value and the important place that Protestant schools and all minority schools ought to have in our education system and our country. As a Roman Catholic priest, I, with many others, will do all we can to protect Protestant schools, for we are concerned for our neighbours and our friends and the position they face."
Tags: