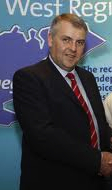 A WELL-known Co Donegal Garda sergeant has hit out at the Government handling of garda killer Martin McDermott following his escape from an open prison.
McDermott walked out of Loughan House in Co Cavan last month and there was outrage amongst the public here in Co Donegal and amongst colleagues that he could have been sent there just seven months into a seven-year sentence for the manslaughter of Garda Gary McLoughlin.
The Association of Garda Sergeants and Inspectors called on Justice Minister Alan Shatter to hold a full inquiry into how Raphoe man McDermott – who had 90 previous convictions and had escaped from the Cavan jail in 2007 – was sent there in the first place.
Mr Shatter has insisted that no such inquiry will take place saying the issue had been "fully addressed."
But speaking at the conference Gda Sergeant Paul Wallace, one of the county's leading crime prevention officers, was able to speak out in his role as a member of the AGSI.
"There is hurt all around," said Sgt Wallace, reacting to the Minister's refusal to hold a full independent public inquiry into the Irish Prison Service's handling of McDermott case.
"I can't even articulate that hurt but this seems to be the way things are going at the minute where we have people saying that we've had an inquiry and saying that everything is 'hunky dory' and it's not," he said.
There is still widespread anger throughout the force in Co Donegal, and especially in Buncrana where Leitrim native Garda McLoughlin served, at the way the issue has been handled.
Another senior officer, speaking on condition of anonymity, told donegaldaily.com that there was "no comfort whatsoever in Shatter's promises that it won't happen again."
He added: "We have lost two colleagues to thuggery of the worst kind. Just imagine how the rest of us feel when justice hasn't been seen to have been done."
The criticism follows anger amongst rank and file gardai represented by the GRA. They want gardai on duty to be given special protection in new laws – and so far the Government has also resisted those calls.
More rural Co Donegal Garda stations will be closed, Mr Shatter has announced, once again hitting morale in an over-stretched service.
The Association of Garda Sergeants and Inspectors said the policy of closing more stations represented a serious erosion of the community policing model.
The minister said he could not yet say how many more stations would be closed.
Meanwhile a European arrest warrant has been completed by Buncrana Gardai and the DPP to ensure that McDermott is returned to the Republic once his four month sentence in the North is complete.
He was jailed for assaulting PSNI officers and other offences when he was captured in Derry – 24 hours after his escape.
Tags: