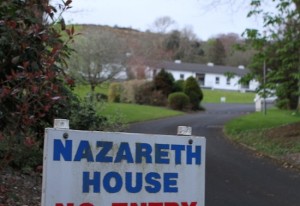 FOUR residents who died at a nursing home had been vaccinated against the flu, the Health Service Executive has confirmed.
And five members of staff at Nazareth House in Fahan had also contracted the Influenza A (H3) strain, said the HSE.
We can also reveal that an investigation was only launched after a GP visiting the home on Sunday decided to contact the HSE.
In response to news that four of the six people who have died had been given the 'flu vaccine' the HSE admitted it didn't always work, especially for elderly people, even though the latest vaccine was developed to tackle the strain that killed them.
Dr Darina O'Flanagan, director of the HSE's national Health Protection Surveillance Centre, admitted that the vaccine was "not a perfect fit" for the strain in the northern hemisphere.
She also said the elderly people who had died were in their 80s and 90s, and vaccines were not always as effective in that age group as they often had weakened immune systems.
The first death at the home occurred on March 22, the latest just two days ago.
We understand that healthy residents at the home were not separated from infected patients – there were at least 11 other cases – until after the GP called in the HSE.
Dr Peter Wright, director of public health with the HSE North West said: "Nursing homes are obliged to report outbreaks of infectious disease, but it is a question of how you define an outbreak and that is down to the medical officer."
In the Fahan case he admitted that it would have been better "had we been told sooner."
An inquiry is under way into how one elderly resident was admitted to the home after four deaths had occurred.
There was also a "serious concern" that some of those who had died reposed at the home to allow members of the public to visit.
It's understood that of the 11 residents who have the flu currently, three are seriously ill.
Four members of staff who had the flu have recovered, whilst a fifth is still sick.
TD Joe McHugh says the families of those who died deserved answers.
"I think they are owed an explanation as to why their loved ones died and I would welcome a report into these deaths.
"I think it is the least that can be done. There are plenty of questions still and they need to be answered," he told donegaldaily.com.
In a statement the Sisters of Nazareth who run the Fahan home offered their condolences to the families of those who had died.
A spokesperson added: "This is an extremely upsetting time for the families of the deceased and we continue to provide the residents at Nazareth nursing home with the highest standard of care."
Father Paddy O'Kane, based in Derry, visited his 93-year-old father Dominic yesterday at the home which he said offered great care to residents.
He found out about the flu outbreak via the news and had gone to anoint his father because of family concerns.
He said he was 'naturally concerned' at what had happened in recent days adding that the care there "is very good but this has hit everybody unexpectedly."
Local county councillor John Ryan confirmed his father Michael is currently a patient at Nazareth House and said he had no concerns about his father's welfare.
He said he had been assured by Deputy McHugh and Dr James Reilly that all procedures are being followed properly.
Tags: