The last tragic victim of the Nazareth House nursing home tragedy was laid to rest today.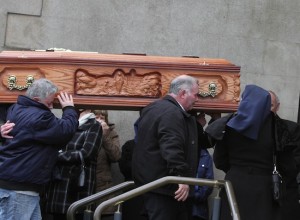 Family and friends gathered at St.Mary's Church in Cockhill, Buncrana in the bitter cold to say a final fond farewell to Sister Eugene Fullerton.
The 85 year old nun was the sixth person to die from an outbreak of flu at the nursing home in Fahan on the Inishowen Peninsula.
In a touching mass, parish priest of Fahan, Fr Neil McGoldrick, said the thoughts and prayers of the entire community were with Sister Eugene and all those who had died in recent days.
The funeral mass was due to take place at Nazareth House but was moved because of quarantine restrictions still in place at the home overlooking the shores of Lough Swilly.
Fr.McGoldrick was assisted at the mass by Monsigner Eamon Martin, administrator of the Diocese of Derry, Fr Raphael Januski and Fr Carlo Centra and Fr Paddy Doherty.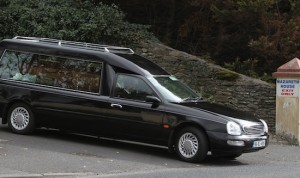 Predeceased by her mother and father Catherine and Alexander and brother many of Sister Eugene's cousins attended the mass.
Her sister Kathleen is still a resident at Nazareth House.
Nazareth House was represented by the Superior, Sister Alice Kirwin and a number of other nuns.
Born Bridget Fullerton on the Inishowen Peninsula in Drumfries, Sister Eugene had worked in many places including Sligo, Birmingham, Liverpool, Swansea, Plymouth, Hammersmith, Glasgow, Nottingham before coming to Nazareth House in 2001.
Fr.McGoldrick said many people did not know the real Sister Eugene as her health had already started to fail when she arrived back in Co Donegal.
However he spoke of a very independent woman, with a great sense of humour who spoke her mind.
As well as spending her years working in catering for the Sisters of Nazareth, she was also a charitable collector.
"Some of you knew her at least to some degree and those of you who did knew she was a person who wouldn't let you off. She knew how to make her point. She was witty with her answers – someone who could hold her own. Jolly and kind into to the bargain and yet a very private person.
And he added "She liked an odd drop of sherry. If a person hadn't filled the glass up enough she would always remark that there was a lot of glass in the sherry," he joked.
Fr McGoldrick said the late Sister Eugene was a very strong woman who once fell down an escalator at a train station and received serious bruising.
However she would not hear of being treated and just carried on with her business.
He said she liked the simply things in life and took great pleasure from a little dog named Pippa which she once owned.
Tags: