A UCD law graduate from Donegal has been elected as the new president of the Union of Students in Ireland.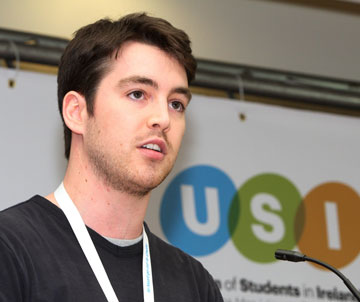 John Logue (23), from Letterkenny, will take up his one-year term of office on July 1st.
In the traditional closing address to USI Congress – held in Ballinasloe, Co Galway, this week – the president-elect said he was honoured and humbled to be chosen by students "to lead them in what is a hugely challenging time for education".
"Ireland has prided itself on an education sector that produces the best and brightest the world has to offer," he told the conference.
"However, with increasing pressure on funding we are starving ourselves of the chance to live up to this aspiration. Now, more than ever, the Government need to realise that education is not a luxury, it is an economic imperative," Mr Logue said.
USI president Gary Redmond congratulated Mr. Logue in his election and said he would be a "strong and vibrant leader of our 250,000 strong membership".
"I hope that John will take up the challenge laid down by President Higgins at Congress this year and ensure that students play a central and influential role in the rebuilding of the Irish Republic," Mr Redmond added.
Tags: