The man who led a walk from Donegal to Dublin in protest at austerity measures has had his dole cut.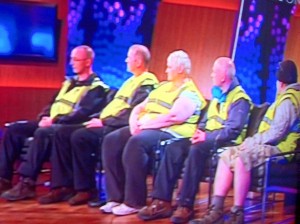 Joe Murphy from Culdaff in Co Donegal captured the public's imagination when he went on the massive walk and even appeared on the Late Late Show.
But the unemployed builder has revealed how he has had four days of his dole money cut.
He revealed "I was allowed 12 days holidays and I think everyone on the dole is entitled to that.
"But I was cut four days dole money because they said I was unavailable for work. Because I was on the protest walk, they said I was not available.
"Does that mean if I go for a walk down the town then they can turn off my dole," he said.
Joe said he knows that the order to cut his dole money came from the top down.
He said he had absolutely no problem with the staff of his local social welfare office in Buncrana.
He even revealed how local staff had written him a cheque for €310 to keep him going.
"I have nothing against the staff in Buncrana. They have been more than helpful. They are only following orders.
"I know this came from Dublin. I went down to the office in Buncrana and they kindly wrote me a cheque for €310. They bent over backwards for me.
"Without that money I would not have been able to have breakfast this week.
"Because I lost four days on the dole there was no money for my family.
"My wife had to depend on the goodwill of family and friends," he said.
Ends
Tags: