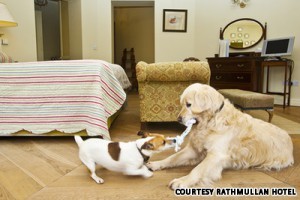 Well Easter is here and we are getting ready to enjoy the festival with plenty of visits to family and to exchange the traditional chocolate eggs and confectionary.
Whilst it is fun to eat a lot of chocolate, please remember that its poisonous to all dogs.
Chocolate contains an alkaloid called "theobromine".  Theobromine is in the same family as caffeine and is a type of stimulant (they both are mythylxanines).  Theobromine stimulates the central nervous system, cardiovascular system, and causes a slightly increases blood pressure.
Dogs and certain other animals, such as horses and cats, cannot metabolize theobromine as quickly as consumed theobromine from reaching the bloodstream.  These include:
1. Inducing vomiting in the dog immediately, which helps remove much of the chocolate.
2. After that, try to get the dog to eat a small amount of charcoal, which binds to the theobromine and keeps it from entering the bloodstream.
3. Try to get the dog to consume as much water as possible to keep them hydrated.
4. Get the dog to the vet, where certain drugs can be used to help the dog survive, such as anti-convulsants, which can help if the dog is having seizures.
In order to induce vomiting, the easiest way, get the dog to drink warm water which has a lot of salt dissolved in it.
For the activated charcoal, about 1-2 tsp of crushed coal mixed thoroughly with water should be fed to the dog.  This also works well for certain other types of toxins that dogs and cats can sometimes consume, such as: rat poison
Why not go for some fresh country walks with your family and dogs and enjoy the holidays J
Above all, have a pleasant, relaxed and enjoyable Easter..
Tags: