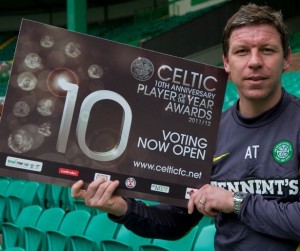 FROM NEIL DOHERTY IN GLASGOW: MORE than 14,000 Celtic fans will be at Rugby Park today – some of them from Co Donegal – where Neil Lennon's side are hoping to seal the SPL title.
A draw will do in the noon kick-off against Kilmarnock – crowning Celtic champions in an incredible season.
And one Hoops legend, first-team coach Alan Thompson, believe it will be sweeter than any of the four titles he won as a player.
"There's an awful lot of hard work that goes into winning a title," said Thompson. "It gives you a taste for it.
"When you eventually clinch it, it's a massive sense of achievement and there's a hunger to do it all again."
Celtic were on target to win the title for the first time in four seasons, even without Rangers 10-point deduction.
And that was despite being 15 points behind and written off by almost everyone (and let's be honest here folks, even by me.)
"We've just been preparing the players as normal," said Alan.
"There's a lot of hard work gone in this season and this week has been no different.
"We'll go there and try and win the game like we always do.
"When Neil came in his remit was to build a strong squad of young players that can sustain a title challenge for a long period of time. And we're nearly there."
He went on: "It is difficult to compare the playing side to now but this would, I think, be sweeter than anything I achieved.
"Especially with us being 15 points behind and people writing us off.
"All this talk of tainted titles from pundits writing this and writing that, is an absolute nonsense.
"To turn it around 15 points – regardless of the 10 points deduction Rangers have had – means absolute massive credit has to go to our players for what they have done."
The league table doesn't tell lies.
Even if Rangers had not been deducted 10 points, they would still be eight points off the pace with half a dozen games left.
The big question at the end of this season will be what punishment is meted out to Rangers if they are taken over and their £134Million debts sorted out.
It has become clear that the club regularly broke SPL rules with illegal payments to players.
* Who is your player of the year? Voting underway at the Celtic website celticfc.net. Alan Thompson is pictured above reminding you how to do it.
Tags: