More than 2,000 brave souls defied heavy rain and howling winds to attend the Chain for Life event in West Donegal yesterday.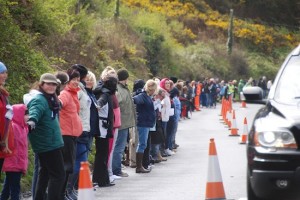 The group, which formed a human chain from Falcarragh to Gortahork, raised a tremendous €14,000 for the Irish Cancer Society.
The young and the old gathered to form the 2.5 mile chain in a fundraising event that bonded both neighbouring communities.
Spokesperson Carmel Ferry paid tribute to the organisers and all those who braved the conditions to help with the event.
"To be honest the weather couldn't have been much worse.
"But it was amazing to see what could be achieved when the two communities came together.
"There are so many people to thank that it is impossible to even begin so we would like to thank everyone who made this possible.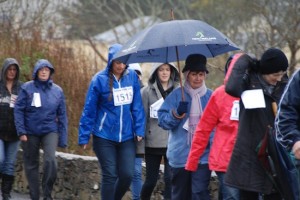 "The amount of money raised on the day was just staggering and it is still coming in.
"We are all touched by cancer in one way or another so it is fitting that so many people came out even in this weather," she said.
The Chain for Life event was a warm-up event for the Relay for Life event which takes place in Letterkenny on May26th/27.
Thousands are expected to take part on the day to raise funds for cancer services.
Tags: