A dog which was left for dead when his owners abandoned him in a garden for almost a month has made a remarkable recovery.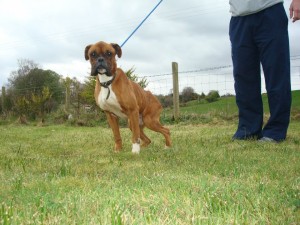 The boxer dog was named Chance by horrified animal workers who found him in horrific conditions in the Carrigans/St Johnston area.
He couldn't walk or even move his head after being chained up in a garden without food or water and was only half the weight of a dog his age.
But the three year old dog has now made a miraculous recovery and is running around the garden of its rescue home.
Ryan McCauley of Donegal Pet Rescue, who found the dog after being tipped off by concerned neighbours, said it's hard to believe it's the same dog.
"I was horrified when I found the dog and we called it Chance because we wanted to give it every chance.
"To be honest I had my doubts if it would survive because it was in the worst condition I have ever seen an animal in.
"It couldn't even lift its head to look at me when we called.
"But the vet has done great work and Chance is a different dog today. He is even enjoying little runs around the garden now.
"He still has a bit of weight to put on but we are speechless at how well he is doing," revealed Ryan.
He added that Chance's plight has really caught the imagination of the public and people have been donating everything form money to dog food to help him recover!
The charity worker said Gardai are still carrying out an investigation into the circumstances surrounding
"That's a Garda matter now but we are just so happy that it looks like Chance is going to make a full recovery.
"When he is up to it, we should have no chance rehoming Chance," added Ryan.
Tags: