It may be only the Easter break but Alcorn's Tropical World is already enjoying an early season boost.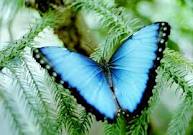 We may have enjoyed just a little taste of what hopefully will be a long, hot summer but things are already blooming and buzzing in Donegal's own little zoo.
People may have raised an eyebrow at the idea of opening a zoo in Donegal.
But the risk taken by the well-known Alcorn family is already beginning to take off.
This week Tropical World's car park at Loughnagin on the outskirts of Letterkenny was buzzing with cars from across the country.

If the Easter break is anything to go by, then Clive Alcorn says he is optimistic that a good summer is in store.
An impressive 20,000 passed through its doors last year but with many new animas and attraction this year, that number could well rise.
"We have had a very good Easter and hopefully that will continue on into the summer.
"Our philosophy is to give people value for money and I think we offer that. When people come here they can relax and see all the place has to offer.
"We have invested heavily in Tropical World and people are surprised that there is now so much going on here," said Clive.
So much indeed!

The only problem with Tropical World is knowing exactly where to start and remembering not to leave anything out.
Tropical World wouldn't be what it is without its famous array of exotic creatures.
They might not have lions, tigers or bears in Tropical World but that's only a positive for the neighbours in case any were to escape.
But it does boast an impressive list of exotic specimens including a great grey owl, lemurs, meerkats, reptiles and monkeys.
One of the most stunning and relaxing elements to Tropical World is its wonderful butterfly enclosure.
The enclosure is home to some of the most colourful and spectacular butterflies on the planet and is especially heated to keep the butterflies safe and warm.
In a life full of rush and push, an hour in the butterfly enclosure is the perfect way to get away from it all.
The Alcorns have always been known as business people who have made their decisions and stuck by them and Tropical World is no different.
The centre was built with without as much as a cent of funding and yet its owners continue to strive to give value for money – with special offers for schools and groups.
But the only real way to experience the magic of Tropical World is to visit it.
It is open now until the last leaf falls off the tree in Autumn which gives everyone plenty of time to visit.

Our tip – visit it now so you can visit it time and time again.
For al Tropical World has to offer visit the centre's website which is linked on our front page.
Tags: