If it's good enough for the likes of millionaire soccer stars Robin Van Persie and Frank Lampard to play on, then it's good enough for many of Donegal's exiled GAA players.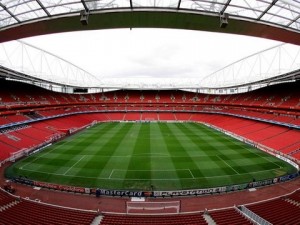 More than 300 tons of top soil from two of the world's biggest soccer clubs has been used to resurface London's famous GAA club, Tir Chonaill Gaels.
The deal was struck by Irish businessman Michael Crossan who owns PowerDay Recycling Company.
Michael has connections with both Chelsea FC and Arsenal FC and regular supplies them with top soil when they are reseeding their pitch.
Now the businessman, who is also a sponsor of Tir Chonaill Gaels, has literally brought the GAA team a new playing surface fit for superstars.
The club is home to many well-known Donegal players including Letterkenny's Brian McBrearty and now Ciaran Bonner who transferred from Glenswilly recently.
The ground, Tir Chonaill Park in Greenford, has been closed for the past number of weeks while the reseeding took place.
But now chairman of the club Tom Mohan, who is originally from Frosses, says it's almost ready to be used.
"Mick Crossan has been very good to us. He does more than just write cheques for us.
"This is the best quality top soil you will find anywhere in the world and now we'll be playing on it.
"Grounds such as Chelsea and Arsenal reseed their grounds every three years and we have been lucky to benefit from it.
"Who knows – we might even start scoring a few more goals because it's was used on a soccer pitch. Just as long as the lads don't think they're Frank Lampard and look for his wages," laughed Tom.
Estate agent Tom said Ireland and Donegal's loss has been London's gain with hundreds of GAA players now transferring from clubs across Ireland to London.
"Since the 3rd of January we have transferred 28 players and I know there are more than 500 players who have transferred to various clubs around England in recent months.
"It's unfortunate that has to be the case but it's a fact of life that lots of young men are looking for work.
"We will try and find them work over here and if they can play football then even better," he said.
Tags: