Kilcar rocker Rory Gallagher returns to where it all began when he plays the local parish hall tonight.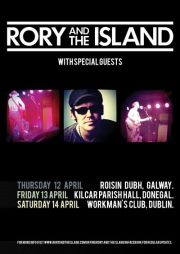 A huge crowd is expected for Rory's return which he will fit in before playing the Workman's Club in Galway tomorrow night.
Rory plans to play a number of songs from his latest album 'Auntie Depressant and Uncle Hope.'
Included among these will be the single for Euro 2012 Boys in Green which Rory hopes will become the official anthem for the Euro Championships.
The single has already been officially endorsed by Irish legend Ronnie Whelan.
Admission tonight is just €5 for adults and €2 for kids.
It's a homecoming for Rory and the chance to catch one of Donegal's genuine musical talents.
https://www.facebook.com/events/350521434989705/
Tags: