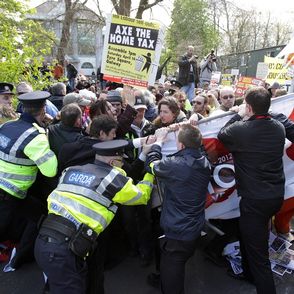 PROTESTORS had to be forced back as they tried to storm Garda barricades during a demonstration outside the Galway Ard Fheis of the Labour Party today.
Furious Labour delegates condemned the skirmishes accusing those behind them of being undemocratic.
Dozens of protestors from Donegal had travelled to today's protest, mainly from Falcarragh and Gortahork as well as Inishowen.
However around 100 protestors broke away from the main demonstration to force their way through Garda lines.
Earlier a tricolour-draped coffin was left at the main entrance of the conference with a red Labour rose placed on top of it.
Slogans such as "Labour Party, we know you; You're a f—ing Blueshirt too"were chanted.
A copy of the conference agenda was burned amid chants of "Revolution, revolution." Gardai were forced to use pepper spray to protect themselves.
More than 20 uniformed gardaí were forced to retreat and form a cordon at the entrance. Protestors dispersed around half an hour later.
This morning anti-austerity campaigner Ryan Stewart spoke out as Environment Minister Phil Hogan issued what campaigners called a 'new threat' – he warned homeowners to pay the controversial €100 household charge or risk losing their tax clearance certificate.
"How long are this government going to propogate fear to try to get people to comply," said Stewart today.
"The people have shown their disapproval. 902000 out of 1.8 million – not 1.6 million. You might think that the numbers aren't important, but the latest government spin shows how important the numbers are to them.
"They want to get to a point where they can say the 'majority' have complied. Ignoring this, how, when the law of the land shows that a legally incorporated company is a separate legal entity to those who control it, can the government withhold a clearance cert from a legally tax compliant company? Simple answer. They cannot."
Mr Stewart added: "This shower are taking us for fools, and dreaming up possibile penalties in order to frighten people into complying because people are not buying in to their rubbish. The lunatics are running the asylum now."
Speaking in Kilkenny this afternoon, Minister Hogan vowed to purse those who haven't paid, saying letters will be sent to householders from local authorities reminding them of the penalties and interest relating to non-payment.
Full details of how the system will work will be announced early next week. The Cabinet will discuss the issue on Tuesday.
The Labour party is into the second day of its Ard Fheis in Galway.
Tags: