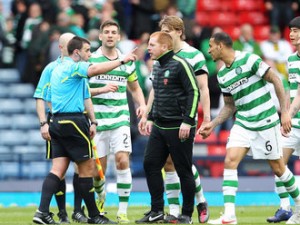 FROM NEIL DOHERTY AT HAMPDEN PARK: FORMER Celtic star Craig Beattie celebrated like he'd won the Cup (to the surprise of his former fans in Glasgow) as his injury time penalty gave Hearts a 2-1 victory over the Hoops at Hampden Park.
The fact the 'penalty' was never a penalty and looked like one of the most dodgy referee decisions of the season made Celtic's defeat feel worse.
As it is, the Scottish Cup Final will be an Edinburgh derby next month back at Hampden as Hibs square up to Hearts for the first time in a cup final since 1896.
Former Celtic striker Beattie was literally handed the chance of winning when Marius Zaliukas' shot came off Joe Ledley's hand. It was more ball-to-hand than hand-to-ball.
Celtic had dominated the game but once again came away without a win, dominating the first half and also hitting the woodwork twice.
Rudi Skacel then fired Hearts into the lead two minutes after the break.
Gary Hooper looked offside as he headed the equaliser with three minutes left, but Beattie's spot kick ended Celtic's hopes of a league and Cup double.
It sparked fury on the Celtic bench, with manager Neil Lennon confronting referee Euan Norris about a penalty that itself looked harsh, as Hearts celebrated reaching the final against Hibernian on May 19.
Beattie believes his side deserve their place in the final.
"It was fantastic, a great moment for myself and we deserved it," Beattie told Sky Sports 1. "We came with a gameplan to frustrate Celtic and I think we did that.
"To come back after they scored to equalise, I'm delighted.
"I was thinking please dive out of the way quick enough when I stepped up to take it. I don't normally take penalties but I've practised a couple during the week."
Beattie explained why he had only started the game from the bench.
"I've been carrying a couple of knocks and missed a few days of training," he added.
"I was touch and go to be honest, but I knew if I could get through Friday and Saturday in the week then I'd recover."
The striker is now looking forward to a sell-out crowd in next month's showdown after ending Celtic's hopes of retaining their title and claiming a league and cup double.
"The place will be rocking," he said. "It will be sold out and it's going to be a great day to compete for the Scottish Cup.
"It's going to be a fantastic day. Favourites go out of the window."
Celtic first team coach Alan Thompson called into question the refereeing decisions as his side crashed out of the cup. Celtic had a penalty shout of their own turned down when the ball appeared to come off the arm of Andy Webster.
"We are very, very disappointed to say the least, more for the players and the fans," Thompson told Sky Sports News.
"It's inconsistency from the referee. If one's a penalty the other one's a penalty.
"Initially we thought the Hearts one wasn't a penalty. The ball came up to Joe Ledley's hand and it was so close to his hand he couldn't get out of the way.
"If that was a penalty we thought the Webster one should have been a penalty.
"There's an inconsistency with how the referee sees it. Yet again we think we've been done in a cup final from a big decision. In the League Cup final we were denied a stonewall penalty.
"On the whole we're disappointed and thought we deserved more.
"We obviously wanted to go on and finish the season on a high but that won't take away what we've done in the league."
Tags: