Two people had to be rescued off the Donegal coast after their boat's engine lost power.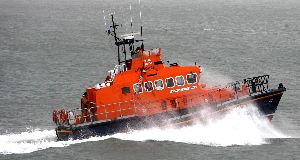 Bundoran RNLI Lifeboat  was called to aid a small pleasure craft, following a mayday call to Malin Head Coast Guard on Saturday evening.
The 18 foot craft, with two people on board who were both wearing lifejackets, suffered engine failure and immediately deployed two emergency flares.
These were spotted by the nearby Prospector One who issued a mayday relay to the Coast Guard at Malin Head who in turn issued a page to the crew of Bundoran Lifeboat.
Within minutes, the Atlantic 85 lifeboat William Henry Liddington launched and the volunteer crew were on the scene.
The craft had received an initial tow from Prospector One as it was floating dangerously close to rocks.
The Killybegs coastguard unit were also tasked to the scene and arrived shortly afterwards whilst the Sligo based Rescue 118 helicopter who were en route, were stood down. The Bundoran Lifeboat then proceeded to take the vessel under tow to Mullaghmore Harbour.
Volunteer lifeboat helm Brian Gillespie said 'engine failure is a common cause of lifeboat callouts'.
"Luckily the two persons on board were prepared and had emergency flares and were able to raise the alarm. Importantly they were also both wearing lifejackets. Being prepared is the key and we would always advise boaters to have basic safety equipment on board," he said.
Tags: