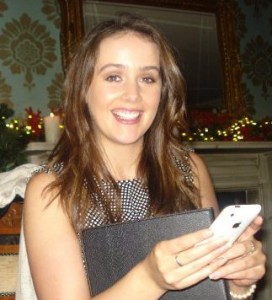 DONEGAL entrepreneur Elizabeth O'Donnell is to appear on this Friday's Late Late Show, RTE has announced.
Her appearance is to coincide with the Grand Final of ERP Junk Kouture 2012 which takes place at 4pm on Friday 20th at CityWest hotel in Dublin.
The Buncrana woman will be interviewed by Ryan Tubridy and will announce the Overall Winners of this year's Junk Kouture competition.
The Top four entries will get their chance to show case their winning designs to the nation and explain their inspirations and the work involved in turning rubbish in Couture.
ERP Junk Kouture is a competition for Second Level students throughout the whole island of Ireland, whereby they are challenged to create Couture fashion from old everyday junk.  The idea is to subtly educate kids about recycling and at the same time inspire them to create something fashionable and wearable.
Junk Kouture was setup in June 2010 and is now at the end of its second season with over 2500 students being involved in the last 2 years and 5000 more having come to see the Junk Kouture shows.
As Elizabeth explains… "It is incredible how much the competition has grown in less than 2 years…The highlight of which for me was our invitation to the Royal Film Premiere in London where some of our models got to showcase their homemade glamorous dresses made entirely out of old junk that normally people would throw away. It was an incredible night all round and greatly increased the profile of what we are doing."
She went on: "The 2013 competition promises to be even bigger as we have plans to get involved in the City of Culture in Derry and bring the Grand Final of Junk Kouture 2013 to the North West.
"This would mean so much to me, considering I have lived most of my life in Buncrana and now in Derry, I am really excited about what the City of Culture have planned for 2013, and I would be so proud for Junk Kouture to be included on their programme of events. Coupled with this, we have been handed a huge boost recently with Moya Doherty of Riverdance coming on board as a Company Mentor.
"To work alone side someone like her is amazing for us, she has been there and done it in terms of taking a show from nowhere to being a worldwide success. Moya shares our plans for Junk Kouture and with her guidance we believe we can help Junk Kouture fulfil all of its potential."
Tags: