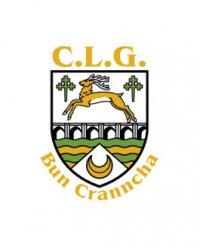 Buncrana GAA Notes For Week Ending Sunday 22nd April 2012
U14 Hurlers win Donegal Feile Competition: The club and community of Buncrana GAA are very proud of the U14 Hurlers who won the Donegal Feile on Saturday and will now go on to represent the county in the All-Ireland Feile in Dublin in July. Well done to all the players and mentors involved.
Senior Men Football:
Buncrana 0-11 Naomh Columba 0-12
In their first home fixture of the 2012 league, Buncrana fell to a 1 point defeat to visitors Naomh Columba. Mark Crossan's team got off to a very poor start and found themselves 5 points down at half-time. Indeed the half-time deficit could have been greater had it not been for points from Odhran Doherty and Ryan Bradley. In the second half Buncrana seemed to gain focus and points from Garbhan Friel, Christopher McDermott, Odhrán Doherty and Oisín Doherty brought Buncrana to within 1 point. Unfortunately for Buncrana, Naomh Columba held on to win by the smallest of margins.
U12 Hurling: Buncrana hosted the first of the Donegal u12 hurling blitzes for 2012, Clubs represented were Carndonagh, Burt, St.Eunans & Dungloe/Gweedore with the host club fielding two teams, Both teams done themselves proud with some fine hurling on display and established a good base to build on for the rest of the season. Congratulations to Aaron Craig, John Vaughan, Matthew Wilson, Nial O'Doherty , Gavin Kelly & Oisin Roe who represented their clubs in Croke Park in the Donegal development Blitz last Wednesday, all players were on form with some skilful hurling and scoring from the lads. Training will take place this Wednesday at 6.30 in Scarvey, Please spread the word.
Senior Ladies Football: Training sessions continue as follows, Wednesday night at 7.15pm and Friday night at 8pm. CLG Buncrana senior ladies made history last weekend by playing their first competitive match of the junior league at Scarvey against Red Hughs of Killygordon, and what an historic start they got off to with a fantastic 5 point win over the well established Killygordon side. From the very first second of the match, every player in a Buncrana club jersey played their hearts out. Buncrana took control of the game from the off! With the safe hands of Grainne Carlin and attacking talent of Doreen Mc Gee in midfield. Everyone; from goalkeeper to full forward, pulled out all the stops to ensure a win for Buncrana. With some lovely scores from the entire forward line out, especially Michaela Mullin and Niamh Connolly working well together. A few mistakes here and there was what let Red Hughs get on the score-board, but with more training and team work, those mistakes will be weaned out of our game. The score was Buncrana 1-4 to 1-3 Red Hughs at half time. Words from the managers; Martin and Brian; at the half time team talk then spurred the girls on to an inspired second half showing.  With some great movements of play starting at one end of the pitch to the other and ending in a score; and if Buncrana lost possession of the ball the determination to get it back again as quickly as possible was evident in every player! It is impossible to pick a particular player of the match as all players who took to the pitch are all deserving of the award! The great defending of the Buncrana side, especially Michelle Brown and Catherine Mc Laughlin, kept Red Hughs at bay throughout the second half with them only putting 1-1 on the board. The final score was Buncrana 2-9 to 2-4 Red Hughs. Keep up the great works girls! Congratulations to you all!
The senior ladies would like to thank Martin Mullan and Brian Stokes for their continued support and training sessions; and for giving up their spare time to help progress our team
Bord na nÓg: The Bord na nÓg meeting will now be held on Friday 20th April at 18:30 in the clubhouse instead of Wednesday 18th April at 20:30. If you want to send any topics for the agenda please send to them Joanne by the evening of Wednesday 18th.
Applications for U21 Football Manager: Applications are invited for the role of U21 Football Manager for the coming season. Interested parties should forward applications/proposals to Club Secretary Pauline Grant secretary.buncrana.donegal@gaa.ie
Gaelic4Girls: Gaelic football for girls under 10, 12, 14, 16 and 18's every Monday night from 7.00pm – 8.30pm in the Scarvey. As always everybody is welcome. Please remember to bring boots, your own water bottle and warm clothing.
U6 FUNdamentals: FUNdamentals for boys and girls aged 5 & 6 years (or turning 5 during 2012) will continue on Fridays at Scoil Mhuire between 6.15pm and 7.00pm. It will also take place on Sundays at the Scarvey from 11.00am until 11.45am.
U8 Football: U8 Football Training continues every Friday and will now take place at the Scarvey from 6.30pm – 7.30pm. Parents, if your child is interested in having fun whilst learning the basic skills of gaelic football please come down and try it out.
U10 Football: Training continues every Friday at 7.00pm at the Scarvey and new players are always welcome.
Boys U14 Hurling: Boys U14 Hurling training takes place at the Scarvey every Tuesday and Thursday evening at 7.00pm. If you haven't played before and are interested in playing Hurling please feel free to come along.
Boys U14 Football: Training for the boys U14 team will take place on Monday evening at 5.00pm. Competitive games are due to begin in 6 weeks so all players are asked to attend. New and returnig players are always welcome.
Boys U14 & U18 Hurling: Hurling training for boys aged 14 to 18 years takes place every Saturday at the Scarvey at 3.00pm-5.00pm. New players are always welcome.
U8 and U10 Hurling: Hurling training for children under 8 and under 10 years takes place each Sunday at 11.00am. If your child would like to learn the basic skills of hurling in a safe and fun environment please come down and try it out, new players are always welcome.
Boys U16 Football: Training continues every Wednesday at 7.30pm sharp in at the Scarvey, please bring boots and trainers and own water bottle. New and returning players are welcome.
Fitness Classes: A number of Fitness classes are now taking place at the Scarvey Clubhouse. Class instructor is Eileen Hegarty and everyone is welcome. Monday 7.30-9.00pm 'Weigh & Tone: Weigh in, nutrition and motivational talk and excercise class' €10. Tuesday 8.00-9.00pm and Thursday 6.30-7.30pm 'Cardio Pump' €5. Saturday 10.00-11.00am 'Kettlebells/Circuits' €5. If anyone would like further details please ring Eileen on 0874120159 or visit 'Get Fit With Eileen' on Facebook.
Club Notes: Anyone who would like to receive a copy of the weekly club notes should email Oisín at buncrana.pro@gmail.com to be included on the mailing list. If you have any items which you think should be included in the club's weekly notes, please email Oisín atbuncrana.pro@gmail.com by 6pm on each Sunday for consideration. To keep up to date with all the latest goings-on, please join us on www.facebook.com/buncranagaa or www.twitter.com/buncranagaa
Tags: