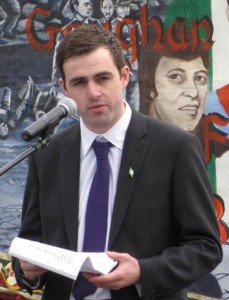 Sinn Féin has launched a bold 'people power' campaign in an effort to persuade Fianna Fail councillors to back a motion on the household charge.
Cllr Jack Murray's wants Donegal County Council to officially refuse to collect information from utility companies in order to pursue those who haven't paid the the €100 tax.
But he needs the support of Fianna Fáil to succeed.
Now TD Padraig Mac Lochlainn is supporting his party councillors in an online bid to woo Fianna Fáil.
He posted a link on his Facebook page giving contact details for all councillors and urged voters to "ask them to support Sinn Fein's motion" on the household charge tomorrow.
Speaking to donegaldaily.com at the weekend Cllr Murray said: "Unfortunately at the last sitting of Donegal County Council, Fine Gael were facilitated by their Mayor to filibuster throughout the meeting in order to block my motion from being discussed.
"While their childish and undemocratic stunt succeeded in blocking a debate on the motion, they did not prevent me from reading it out. Therefore the motion stands and will be discussed on Tuesday.
"Two independent councillors have already confirmed that they will support me. With the support of Fianna Fáil the motion will succeed.
"The vast majority of people in Donegal have not paid the household charge. They have not done so because it is unjust. They understand that it will not pay for council services and are fed up paying new taxes in order to bailout private banking debt.
"This motion is about protecting their privacy. It would be wrong for the council to access ESB bills and social welfare information from families in Donegal.
"I understand that some members of Fianna Fáil agree that the council should not do this. I hope that they will support me on Tuesday."
Meanwhile homeowners could face €300 installation charges for their water meters.
Our story on that is here:
https://www.donegaldaily.com/2012/04/15/new-tax-shock-householders-to-pay-e300-to-install-water-meters/ 
Tags: