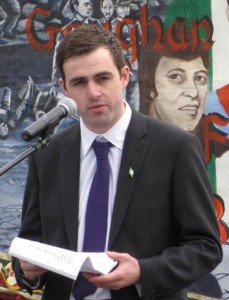 SINN Fein councillor Jack Murray has tonight praised political colleagues on Donegal County Council who backed his motion banning the county officials from using utility bills to track down people who have not paid the Household Charge.
Cllr Murray tried to get his motion in front of a council meeting more than a fortnight ago but a vote didn't take place amid accusations that Fine Gael had deliberately stalled proceedings.
But tonight in Lifford Sinn Fein, Labour, Fianna Fail and independent councillors combined to back the motion.
Under the legislation established to collect the €100 tax, county council officials are given the optional powers of using utility bills as a means of tracing people who have not paid the charge.
Around 70% of people in Donegal have still not paid the levy which was due at the end of March.
Cllr Murray said the new council policy prevents council officials from using those optional powers.
"I am delighted that most councillors on this body agreed with the motion," said the Inishowen-based Sinn Fein representative.
"We didn't get around the vote until very late on, so there only 14 councillors still in the chamber but of those 11 voted in favour of my motion and three against it.
"We have also decided to send this motion to every local authority in the State urging them to follow suit.
"I'd like to thank all of those from the independent and other political party benches who supported the motion."
MAYOR VOTED AGAINST
Fine Gael councillors – including Mayor Noel McBride – voted against the motion and were joined by independent councillor Padraig Doherty.
Earlier Labour councillor Frank McBrearty said he supported the Sinn Fein motion because the powers given to authorities to "pry into the private lives of people" were wrong.
He has written to the Government asking for a fundamental review of those who should be asked to pay the charge.
Tags: