The Donegal grandmother who scooped €2.6 million on the lotto last Christmas knew life would never be the same after her numbers came up.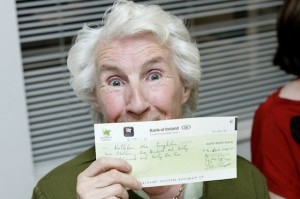 But Redcastle woman Kathleen McLaughlin never thought the Government would cut off her pension.
But that's exactly what happened to the 78 year old.
The grandmother of 28 said she never needed the money but was surprised when her old age pension was stopped.
"I never thought something like that would happen but it did," she admitted.
Kathleen opened up her home to RTE's Nationwide who carried a full programme on 25 years of the National Lottery.
The well-known Inishowen woman had revealed how her one only planned purchase was a new suite of furniture but revealed she was holding out for the January sales!
She showed off her new black, leather sofa but then admitted that she never sits on it herself!
"The cat sits on the recliner," she laughed.
Kathleen says she still goes to bingo and loves nothing better than working in the garden at her home.
She says her win has been a blessing – especially for her children and grandchildren.
Her children, including son DJ McLaughlin, revealed how his mum has paid off all their mortgages.
Tags: