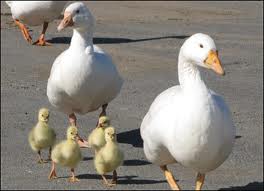 A CLOSE-knit Co Donegal community is set to go on a real-life wild goose chase – to raise money for charity!
For generations people Glengad in Inishowen had a tradition of following a gaggle of geese from Ballynahona to Carndonagh mart.
And this year they will do it again this Christmas in aid of Coronary and Cancer Care.
The event will honour local people Tommy McCulgan and Angela Grogan who passed away in January.
The geese taking part in the 'race' haven't even hatched yet – and people can place a bet on which egg hatches first.
Said spokesman from the fundraising committee: "The numbered eggs are now incubating and committee members are currently going door to door selling lottos to guess the first four eggs to hatch for €2 or you can have three chances for €5 and be in with a chance of winning €1000. Or eggs can be sponsored at Culkeeny Post Office for €10 with a chance of winning €100 for the first egg hatched."
For more check our their facebook page https://www.facebook.com/aWileGooseChase
Tags: