A father-of-five was just feet from safety when he was struck down and killed by a 40ft falling tree.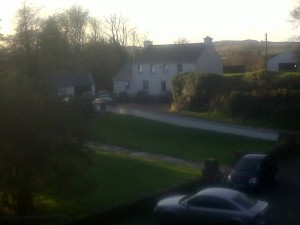 ESB employee Danny Gallagher was cutting trees at the back of his brother's home in November, 2011 when the tragedy happened.
An inquest into Mr Gallagher's death heard today that the 48 year old had cut down hundreds of trees during his lifetime.
Letterkenny Coroner's Court heard how Mr Gallagher had been cutting a number of trees at the home of his brother at Doonwell, Termon on November 5th.
He had followed all the safety procedures and had cut a 'wedge' from the fir tree to ensure it fell in the right direction.
The dead man's brother Kieran Gallagher revealed how the men had already successfully cut a number of trees down before preparing to cut this tree around 1pm.
They attached a rope to the tree at around 25ft in height and Danny Gallagher had directed his younger brother to drive the tractor away.
However Kieran revealed "When I turned around he was running away from the tree. I wasn't worried by that because I simply thought he was making sure the base of the tree did not swing up and hit him.
"When I got to him he was sitting up against the tree and I noticed there was blood coming out of his nostril and left ear," he said.
He started mouth to mouth resuscitation and called the emergency services.
However Danny Gallagher, also of Doonwell, Termon, was pronounced dead a short time later by members of the on-call Nowdoc service.
Asked by coroner John Cannon if he would have done anything differently today, Kieran Gallagher replied "I have been asking myself that question for the past five months. I can't answer that."
Pathologist Dr Gerry O'Dowd said death would have been instantaneous.
An examination of the dead man found he had suffered lacerations to the head and neck.
"Death was due to a severe head injury which was as a result of blunt trauma due to a falling tree," he said.
The jury of two men and four women found death was consistent with a blunt injury to the head.
They also issued a number of recommendations as a result of the unfortunate death.
These include that all people cuttings trees wear safety helmets, that at least THREE people take part in the cutting of a tree, that wind conditions be considered and that a suitable, elasticated, rope be used when pulling down a tree.
Coroner John Cannon said the evidence showed that the seemingly simply task of felling trees could have tragic consequences.
"These are the hazards of life and it is not easy for this family to have listened to this," he said.
Ends
Tags: