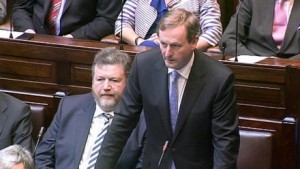 FINE Gael, Labour and Fianna Fail have all taken a battering in the latest opinion poll which makes Sinn Féin the second most popular party in the State.
The Ipsos/MRBI poll for tomorrow's Irish Times shows that Sinn Féin support increased by six points to 21%, putting it in second place. Independents and others are also up, by four points, to 19%.
Support for Fine Gael is down three points to 33%, while Labour drops a huge six points to 13%.
The poll was carried out among 1,000 on Monday and Tuesday and is the first poll for the Irish Times since last October and follows the budget and new indirect taxes like the Household Charge.
Despite this, Fianna Fáil support still went down one point to 14%.
Satisfaction with the Government has also taken a knock since October – its down a massive 14 points to just 23% while 73% now say they are dissatisfied with the coalition's performance, an increase of 16 points.
Satisfaction with Enda Kenny is down 10 points to 42%, and Eamon Gilmore is down 14 to 27%.
However satisfaction with Opposition leaders is down as well – Micheál Martin drops five to 24% and Gerry Adams is down three to 29%.
Tags: