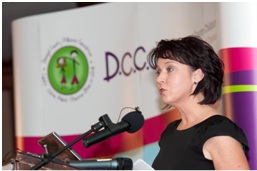 The recent announcement by Joan Burton TD, Minister for Social Protection, to cease one parent welfare payments once a child turns seven, according to Donegal County Childcare Manager Avril Sweeney, has revealed a complete lack of understanding regarding the current state of childcare supports in Ireland.
Minister Burton has stated that she will engage with her colleagues to ensure that safe, affordable and accessible childcare, similar to that of Scandinavian countries, is in place to support lone parents as their youngest child reaches the relevant age threshold.
But according to Ms Sweeney, it may come as a shock when Minister Burton's colleagues reveal "just how far we have to go to achieve the Scandinavian childcare utopia in Ireland."
She said the CSO Census 2011 reveals that there are 18,703 lone parent families in County Donegal representing 10.2% of total households in the county.
When this figure is matched against the number of available afterschool places for children aged 5-10 years in Donegal, the statistic does not come anywhere near meeting the need for afterschool provision should lone parents take up employment once their child reaches 7.
The 2011 annual Donegal County Childcare census revealed that there are currently only 570 afterschool places available in Donegal. This makes a pitiful contribution to Minister Burtons Scandinavian-inspired aspiration for Ireland as 74% of all children aged 6-9 years attend school age childcare provision in Scandinavia.
Said Ms Sweeney: "Childcare costs in Ireland are now amongst the highest in Europe and parents receive the lowest level of support in meeting these costs.
"A report on childcare costs released by the OECD in 2010 shows that families here are paying an average of 29% of their total income on childcare costs. On the other hand, in 2002 the Swedish state introduced a system of maximum fees that would be charged – meaning that no more than 3% of a parent's income goes on childcare.
"Although it is positive that childcare initiatives to date have focused on improved co-ordination and increasing supply in certain areas, this has been to the neglect of the issues of high costs and affordability. Although a part-time free pre-school place is available to every child in the year before primary school, there are no tax incentives available to working parents to help meet childcare costs.
"When a government has a tax relief on waste charges, but none on the cost of childcare there is clearly something wrong. The lack of statutory support and intervention has created a largely inaccessible and inequitable childcare market."
Ms Sweeney concluded that the constructive message to be taken from Minister Burton's comments is that all economic policies, regardless as to whether they concern welfare reform, women's participation in the workforce or economic competitiveness are largely dependent on the availability of accessible and equitable childcare provision.