Runners and walkers taking part in the North West Charity 10k on Sunday, May 6th in Letterkenny are being asked to pre-book in order to avoid congestion with a huge crowd expected for the event.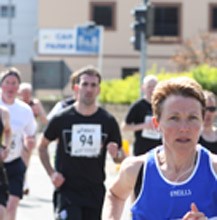 Entries will be taken upstairs at Letterkenny Community Centre on Wednesday 2nd, Thursday 3rd and Friday 4th of May from 6.00 to 7.30 p.m. Also on Saturday 5th May from 4.00 to 7.00 p.m.
Entrants will pick up their numbers and t-shirts at these times which means no queuing up on the day of the 10k.
By doing this you are assisting the committee to ensure that event runs off smoothly and gets started on time at 2.00 p.m. Entries are also being taken on-line at www.northwest10k.com.
Sponsorship cards for the charity event are available from Letterkenny Chamber, Grand Central Complex, Canal Road. For more details ring 9124866 or visit the website where there is also very important pre-booking details for the charity race and walk.
Tags: