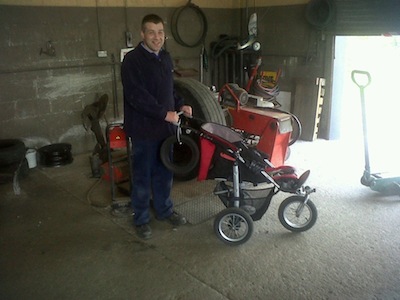 FOR most people it's somewhere to get new tyres or repair a puncture.
For other it's a place to check the wheels and get some air.
But for Paul Gallagher and his team at Ulster Tyres, they're seeing an increase in some more unusual requests!
And among the items in for fixing in recent days include new tyres for a pram, a leak repair on a pair of fisherman's waders – and even a puncture repair for an exercise ball.
"We do all sorts," said Paul from Clonmany, who runs the premises on the Port Road in Letterkenny.
"We would have a few regular customers with prams who do an awful lot of running and need tyres replaced. It's just like any other tyre repair job, except it's a pram!
"But we do get more unusual requests. We've repaired waders for a fisherman recently.
"And last week we had a pregnant lady whose exercise ball had a puncture. A quick repair and some air and it was as good as new!"
Tags: