A man who went on a burglary spree was caught after the car he was driving crashed into another car on a bridge.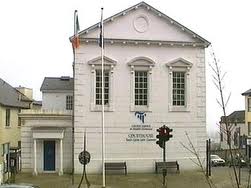 Lee Rowan was caught by Gardai after a car he was in crashed at the bridge at Ballybofey/Stranorlar on July 12th, 2011.
When Gardai searched Rowan, 20, and two other men, they discovered a catalogue of stolen goods including a handbag, three wristwatches, a phone and money.
The car in which the men had been travelling, a black Honda Civic, had also been stolen hours earlier.
Rowan, 20, who has a number of previous convictions, committed the burglaries while out on bail for other charges.
He pleaded guilty to the burglaries when he appeared at Letterkenny District Court today.
Rowan and two other men had broken into the houses at Drumboe Avenue, Glenfin Road and Beechwood Avenue.
Solicitor for the defendant Kieran Dillon said his client had been trying to go down the right road since committing the burgalries.
He said that on the day his client had been drinking and taking tablets and did not remember robbing the houses.
He said Rowan had endured a tough upbringing, his parents had split and he had witnessed events at a young age which no young person should.
He said his client had undertaken to do a course in kerbing and paving with FAS and was trying to turn his life around.
However Judge Paul Kelly said he noted the burglaries were carried out while Rowan was on bail for other offences.
He adjourned the case until July 25th and said he will take an offer of compensation and also a probation report into consideration.
"I am making no promises," said Judge Kelly.
Tags: