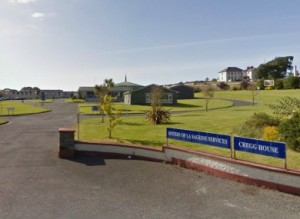 THE head of the religious order which runs Cregg House in Sligo which provides care services for more than 200 people from that county and Co Donegal has issued a statement over a €1.3M cut in funding this year.
Sister Jean Quinn from the Daughters of Wisdom order said services to adults with intellectual difficulties – with more than 40 patients from throughout Co Donegal – could not be sustained after the HSE cut.
More than 2,000 are taking part in a protest this evening.
Sister Quinn said: "This is work we value and believe in at every level. However we must be able to stand over the service we provide and without the necessary support and funding from the Government this is simply not possible.
"We are well aware of the current economic challenges and we have responded to this with efficiencies wherever possible; but there is a limit to the efficiencies which can be achieved, if we want to properly care for and support people with intellectual disability and their families.
"We have assisted, from our own limited funds, both in terms of capital and operational expenditure, but this is not a sustainable option as we are a small Order with limited resources."
She said the service was functioning without a psychology service, "despite the promises made by the HSE", and its social work and speech and language services are "most inadequate".
Sr Quinn said their preferred option would be to continue their involvement with the service, but as a consequence of this situation, "we are not in a position to enter into a further service level agreement with the HSE on the terms we have been offered".
She added: "We are also not in a position to contribute financially to the cost of the services being provided by Wisdom Services on behalf of the HSE. We are, however, most willing to co-operate fully with the HSE in whatever arrangements the HSE consider appropriate to meet the service needs of the users of Wisdom Services."
Earlier today the mother of one patient told Shaun Doherty on Highland Radio that people are worried.
Arlene Porter, 39, stays at Cregg House.
Her mother Bridie, from Inch Island, said: "They have cut more money; €4M since 2005.
"I don't what we would do if it closed. I am frightened for Arlene in a way but I am more frightened for others.
"I would bring Arlene home and I would do my best for her but there are some others there and there is no-one to bring them home."
Tags: