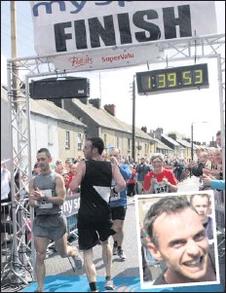 A CO Donegal man has set a new world record – by running a half marathon backwards!
Garrett Doherty from Carndonagh is something of a specialist in running backwards – and plans to do the same from Maline Head to Mizen Head for charity!
Garrett ran the Wexford Half Marathon backwards with the help of two guides, aiming to beat the world record of 1 hour, 40 min, 29 sec. When Garrett finally crossed the finishing line in the Faythe, celebrations were in order as he recorded a time of 1 hour, 39 min, 53 sec ensuring his entry into the Guinness Book of World Records.
Garrett has been reverse running for about three years now and will add his new world record to the silver medals which he won at the World Championships in Austria for the 200 metres and 10 kilometre reverserunning races.
"I am over the moon at setting a new world record," said the Inishowen man.
"It was a fantastic day and I got a great reception down in Wexford."