THE detective leading the investigation to find Madeleine McCann says his inquiry offers the 'best opportunity yet' of finding her.
Det Chief Insp Andy Redwood will tell the BBC Panorama programme tonight, Wednesday: "We are here in terms of seeking to bring closure to the case. Closure means establishing what has happened to Madeleine."
Mr Redwood's comments come just weeks after British police said they were working with police in Portugal and Spain to review the entire ase.
Almost four years after the investigation was "archived", a team has been drafted in from Porto to go over every exhibit and thousands of pages of notes.
Mr Redwood says his team of 28 detectives and seven civilian support staff have received a huge number of reports and documents from Portugal and are also looking at information gathered by UK police and private detectives.
Madeleine has many relatives throughout Co Donegal.
The missing girl visited this county just three weeks before her disappearance in Portugal.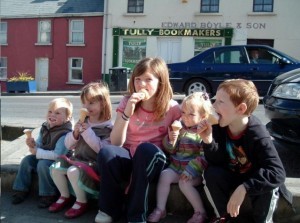 She is pictured here during that visit with some of her cousins.
"Our initial estimates of the amount of material we are facing is that it will be in the region of 40,000 pieces," said Mr Redwood.
"Clearly, within that material, the answer could lie."
Operation Grange was established last May in response to a plea from Kate and Gerry McCann to British PM David Cameron.
Portuguese police remain in charge of the investigation, but Mr Redwood said having all of the information collated is an advantage.
He revealed: "At no time before have those three elements been drawn together in one place.
"And so what we've done over the past number of months is to bring to one place all those pieces of the jigsaw."
Also interviewed is Goncalo Amaral, the original lead investigator in the Portuguese Policia Judiciaria's hunt for Madeleine, and he openly admits making mistakes.
Amaral was removed from the case after he made outspoken criticism of British involvement in the investigation.
"It's a fact that our investigation had its faults and lost a lot of time, lots of time. And a lot of things didn't get followed up. And I'm just as much to blame for that as anyone else," he said.
A statement on the McCanns' website reads: "Madeleine is still missing and someone needs to be looking for her.
"We love her dearly and miss her beyond words."
* BBC Panorama – Madeleine: The Last Hope? is on BBC1 at 7.30pm tonight.
Tags: