Gardai have told a well-known animal welfare group that they are following a definite line of enquiry in the case of Chance, the abandoned boxer dog.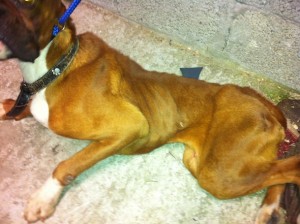 The dog was found by members of Donegal Pet Rescue in the St Johnston/Carrigans area more than a month ago.
The dog was chained to a post in a back garden without food or water after being left behind by its owners up to a month previously.
It has since made a miraculous recovery at a foster home and has been give every chance of survival.
The matter was reported to Gardai who set about tracking down the family who allegedly abandoned the dog.
Now Donegal Pet Rescue has contacted Donegal Daily to say Gardai have revealed their case is progressing.
It is believed they have identified the owners of the abandoned dog and are seeking to interview them
Tags: