The falconer who has lost one of his most precious birds has said he hopes the bird will closer to homes as time passes.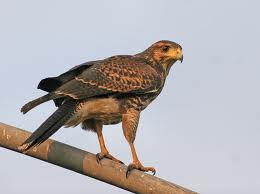 Well-known Glenties man Pedro Soltani sent out an SOS after his Harris Hawk escaped from its aviary yesterday morning.
Despite many reported sightings of the bird, Pedro has yet to be reunited with the rare bird.
"I have received a lot of reports and people have been very good with their information.
"The problem is that some people may have seen it but others may be getting him mixed up with wild birds of prey such as buzzards which are quite common," he said.
The bird, which is a native of South America, has distinctive leather straps on its legs.
Pedro, who owns a total of 29 different birds of prey, says the bird will fend for itself.
"Although it was reared in captivity, it will hunt for itself. It will eat crows, rabbits and other things such as mice and frogs.
"I am hoping that as the days goes by it will come closer to homes and someone can let me know and we can recapture it," he said.
Anybody who thinks they have seen the bird can contact Pedro on 087 7668379.
Tags: