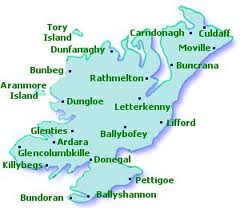 MORE than one in five residents of Co Donegal were born outside the Republic of Ireland, latest statistics show.
The figures from the Central Statistics Office have released the latest information from last year's Census.
It found 22 per cent of people living here in 2011 were not born in this State.
That was the highest of any of the 26 counties and is partly explained by the large number of people from the North who live here as well as the settlement of immigrants from other nations in the past decade.
In terms of population centres, Galway City is the most cosmopolitan with 25 per cent in citizens from outside the Republic.
The census also threw up more information on the county.
It found Letterkenny is now the largest town in the three 'southern' counties in Ulster with 19,588 residents, making it slightly bigger than Sligo which is the largest town in Connacht, with a population of 19,452.
Donegal-born people were the also the least likely to have moved county. Just 13.2 per cent of those born in Donegal and living in Ireland were usually resident in another county.
It also found:
* The population of Donegal is mainly rural with 27.5% of people living in urban areas of the county.
* The fastest growing town in percentage terms was Carndonagh which experienced 31.8% population growth.
* Just over 6,100 usual Donegal residents moved in the year to April 2011, with most of these (4,940) moving to elsewhere within the county.
* Just 360 of the 2,756 Donegal households who moved in the year preceding the census bought their new home with a mortgage or loan, while 2,033 rented their accommodation.
Want to read more. Log on to www.cso.ie/census
Tags: